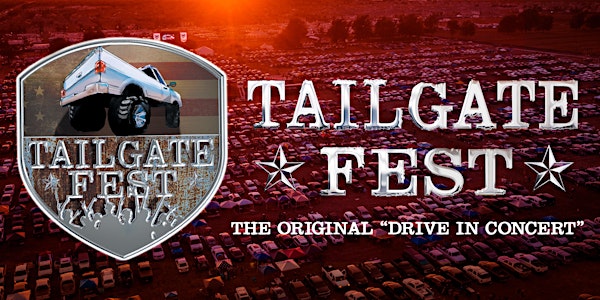 Tailgate Fest 2020 - Payment Plans
Please review all the 2020 ticket information on this page before purchasing. Tailgate Fest is the first country music festival that caters to the fans who show up hours before the concert to pop a top, drop a tailgate and turn the parking lot into the party! Stay where you are…we are bringing your music to you. • August 15 & 16th | 2020 • Auto Club Speedway, Fontana CA • Featuring Country Music's biggest stars Payment Plan Information • Each payment plan ticket will be divided into three separate payments. • A deposit is required in order to opt in to the payment plan. Subsequent installments will be automatically charged to the credit / debit card used to make the deposit payment. • You will receive reminders when we process future payments. Terms and Conditions - Payment Plan• Down payment is required for your purchase. • Two additional payments will be automatically deducted from the card you used to make the down payment on the following dates: Payment 2 will be charged on 7/1/20Payment 3 will be charged on 8/3/20 • All service fees and shipping will only be charged on your final payment. Because of this, your final payment price will be higher. • Default on payments will result in cancellation of your order, loss of down payment, and loss of any payments made prior to cancellation. It is your responsibility to manage your payment plan. You must pay attention to your bank and credit card statements to make sure your payment is successfully completed on each scheduled date. You will be granted a 10 day grace period from each scheduled payment date to process any missed payments, and instructions will be emailed from Eventbrite to do so. If your payment is not made in full by the 10th day after the payment due date your order will be cancelled and you will forfeit all amounts paid up to that point. • All purchases and partial purchases are non-refundable. If you fail, for any reason, to pay any of the installments you will void your ticket and you will not receive a refund. • If you have questions on payment plans, please click here to access the Eventbrite Help Center or contact Eventbrite Support by clicking "Contact the Organizer" at the bottom of this page. ------------------------------------------------------------------------------- EVENT INFORMATION THE UNANIMOUS SENTIMENT AMONG ALL TAILGATERS IS THAT "WE DON'T WANT THE TAILGATING TO STOP WHEN THE SHOW STARTS!" We hear you. We agree! Two Days / Camping / Hotel Packages / Tailgating / Pool Partying ...and Festival-ing at it's best with the best line up in Country music and more. Tailgate Fest brings the stages outside to the tailgate. No packing up the party to head inside, no need to stop that game of cornhole, no need to stuff all your belongings in your pockets or grab sweaters and extras to last you the evening. Tailgating can continue throughout the whole festival as fans can watch their favorite performers from their personal party set ups at their vehicles. DON'T WANT TO TAILGATE? NO PROBLEM! Half the crowd doesn't tailgate at all and experiences the festival more traditionally stageside or even poolside! Yeah we said "pool!" Tailgate Fest is a giant festival with cornhole competitions, honky tonks, shopping, tons of delicious food and bars including our daily Bloody Mary Bottomless Brunch, BBQ's, S'mores roasting and of course of mega pool Party Boots & Bikinis. Go grab a non tailgating ticket and you're good to go. You do it the way you want. Tailgate Fest is The ultimate fan experience – YOUR food, YOUR drinks, YOUR kind of Country Music Festival! See ya in August. ------------------------------------------------------------------------------- TICKET INFORMATION • Once you make your deposit, you will receive an order confirmation email from Eventbrite on behalf of Tailgate Fest. • If you do not see your order confirmation in your inbox, check your Junk/Spam folder. If you still do not see your order confirmation, click here for further assistance. • If you are having any other technical issues with your order, click here to contact Eventbrite. For Festival Info, click here. • All sales are final – no exceptions. These tickets are for Tailgate Fest, not for a specific artist. Artist, venue, and schedule are subject to change without notice. Artist cancellation is not grounds for refund. Event takes place rain or shine ------------------------------------------------------------------------------- PAYMENT PLAN FAQsHow do payment plans work? • Following the initial purchase of a Payment Plan deposit, you agree to have Eventbrite auto-charge the credit card used for the deposit for subsequent installments. • After each installment is charged, you will either receive an email stating the installment was completed successfully, or that your payment was declined, within 5 business days after the auto-charge date. • Once you complete all installments, you will receive a confirmation email for a completed payment plan order with a scannable PDF ticket. Your completed order represents your completed payment plan. For any updates or issues, please refer to this order number and disregard previous order numbers for your individual installments.When will each installment be charged? • Deposit - open until 6/1/20• Installment 2: 7/1/20• Installment 3: 8/3/20What happens if my card is declined? • If at any point a credit card declines, Eventbrite will email you directions within 5 business days after the auto-charge date on how to complete your outstanding installment. • For instructions on how to delete your credit card on your Eventbrite account, please click here.• If you do not complete all installments of a payment plan, a ticket to the festival will not be issued.• It is important to make sure you are logged into Eventbrite with the email address you used to make your deposit to ensure all payments are in the same account.How do I change my credit card on file? • You can delete a credit card from your Eventbrite account, but a credit card cannot be manually added to be stored. If you delete a card from your account, please expect to receive an email within 5 business days after the auto-charge date to make a payment for your outstanding installment with your new credit card. Subsequent installments will then be charged to the new card.How can I reach out for help with my payment plan? • Click Contact the Organizer on the event listing page you purchased from • Click Contact the Organizer through the button included in your My Tickets button in your Eventbrite account • Click Contact the Organizer in your Confirmation email • Call the support number included in your confirmation email STILL HAVE QUESTIONS? Please visit our FAQ page. Other Tailgate Fest Ticket Pages Purchase tickets without a payment plan here
When and where
Location
Auto Club Speedway 9300 Cherry Avenue Fontana, CA 92335
Refund Policy
Refunds up to 30 days before event
About this event
Please review all the 2020 ticket information on this page before purchasing.
Tailgate Fest is the first country music festival that caters to the fans who show up hours before the concert to pop a top, drop a tailgate and turn the parking lot into the party.
Stay where you are…we are bringing your music to you as the only drive in concert in the world.
August 15 & 16th | 2020
Auto Club Speedway, Fontana CA
Featuring Country Music's biggest stars
TICKETS ON SALE NOW
Payment Plan Information
Prices will be divided into three payments. Subsequent installments will be automatically charged to the credit / debit card used to make the down payment. You will be receiving reminders for when we process future payments.
Terms and Conditions - Payment Plan
Down payment is required for your purchase.
Two additional payments will be automatically deducted from the card you used to make the down payment on the following dates:
Payment 2 will be charged on 7/1/20
Payment 3 will be charged on 8/3/20
All service fees and shipping will only be charged on your final payment. Because of this, your final payment price may be higher.
Default on payments will result in cancellation of your order, loss of down payment, and loss of any payments made prior to cancellation. It is your responsibility to manage your payment plan. You must pay attention to your bank and credit card statements to make sure your payment is successfully completed on each scheduled date. You will be granted a 10 day grace period from each scheduled payment date to process any missed payments, and instructions will be emailed from Eventbrite to do so. If your payment is not made in full by the 10th day after the payment due date your order will be cancelled and you will forfeit all amounts paid up to that point.
All purchases and partial purchases are non-refundable. If you fail, for any reason, to pay any of the installments you will void your ticket and you will not receive a refund.
If you have questions on payment plans, please click here to access the Eventbrite Help Center.
-------------------------------------------------------------------------------
EVENT INFORMATION
THE UNANIMOUS SENTIMENT AMONG ALL TAILGATERS IS THAT "WE DON'T WANT THE TAILGATING TO STOP WHEN THE SHOW STARTS!"
We hear you. We agree!
Two Days / Camping / Hotel Packages / Tailgating / Pool Partying ...and Festival-ing at it's best with the best line up in Country music and more.
Tailgate Fest brings the stages outside to the tailgate. No packing up the party to head inside, no need to stop that game of cornhole, no need to stuff all your belongings in your pockets or grab sweaters and extras to last you the evening.
Tailgating can continue throughout the whole festival as fans can watch their favorite performers from their personal party set ups at their vehicles.
DON'T WANT TO TAILGATE? NO PROBLEM!
Half the crowd doesn't tailgate at all and experiences the festival more traditionally stageside or even poolside! Yeah we said "pool!" Tailgate Fest is a giant festival with cornhole competitions, honky tonks, shopping, tons of delicious food and bars including our daily Bloody Mary Bottomless Brunch, BBQ's, S'mores roasting and of course of mega pool Party Boots & Bikinis. Go grab a non tailgating ticket and you're good to go. You do it the way you want.
Tailgate Fest is The ultimate fan experience – YOUR food, YOUR drinks, YOUR kind of Country Music Festival!
See ya in August.
-------------------------------------------------------------------------------
TICKET INFORMATION
Once you make your deposit, you will receive an order confirmation email from Eventbrite on behalf of Tailgate Fest.
If you do not see your order confirmation in your inbox, check your Junk/Spam folder. If you still do not see your order confirmation, click here for further assistance.
If you are having any other technical issues with your order, click here to contact Eventbrite.
For Festival Info, click here.
All sales are final – no exceptions. These tickets are for Tailgate Fest, not for a specific artist. Artist, venue, and schedule are subject to change without notice. Artist cancellation is not grounds for refund. Event takes place rain or shine
STILL HAVE QUESTIONS?