Description
Please join us for a TAILGATE in the New Beginnings Thoroughbreds Tent located at the Water Jump at the Jersey Fresh International Three Day Event. We will be set up during the Cross Country portion of the event, Saturday, May 12th! Tickets include a close up view of the water jump, full brunch and some special surprises. Please bring a chair and beer or wine if you would like. Stop in for the whole day or for as much time as you can!
The Jersey Fresh International Three-Day Event will take place May 9th through 13th, 2018, at the Horse Park of New Jersey – a premier venue that draws equestrian sports' top competitors. The Jersey Fresh International Three-Day Event is best described as an "equestrian triathlon" of Dressage, Cross-Country and Show Jumping – all three phases are extremely spectator friendly. Each year, JFI hosts more than 100 competitors from across this country and around the world, many who are international medalists. This is a wonderful opportunity to see these incredible athletes, human and animal, up close and in person. http://www.jfi3d.com/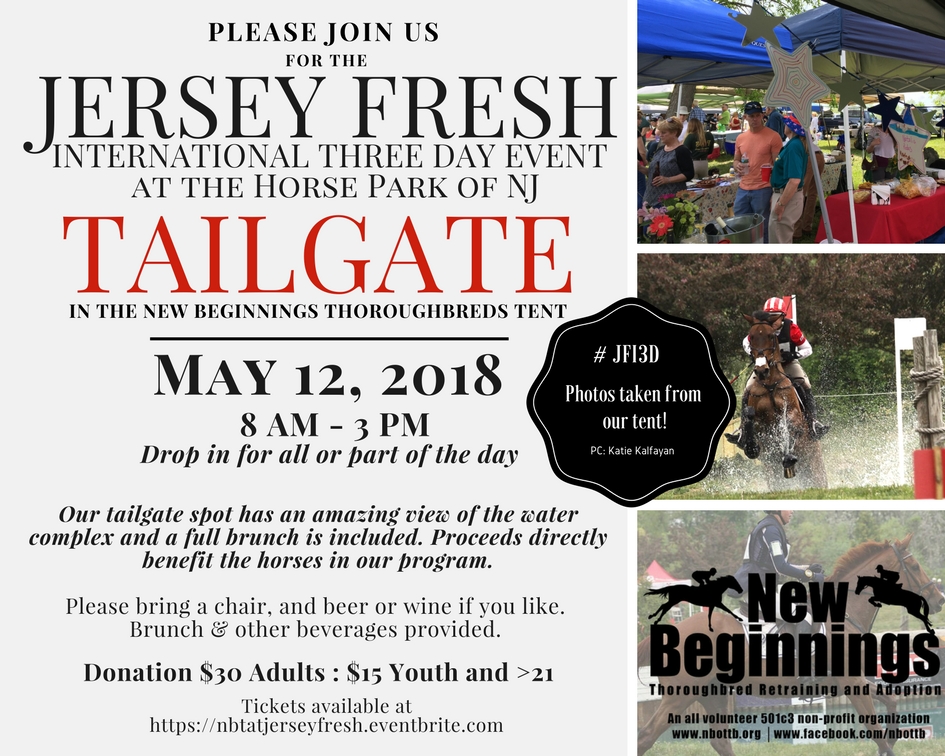 New Beginnings Thoroughbreds is a non-profit organization whose mission is to retrain and secure loving adoptive homes for off-track thoroughbreds. All funds raised will go directly to the care of the horses in our program. For more information on our current horses, please visit www.nbottb.org.