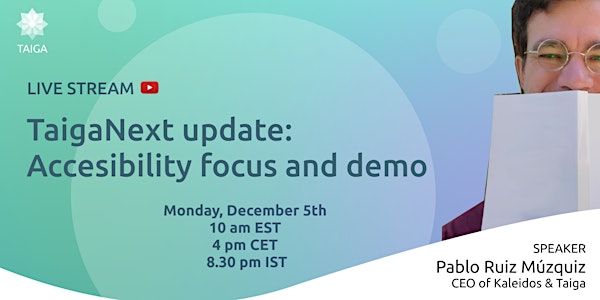 TaigaNext update: Accessibility focus and demo!
At Taiga we believe that project management is a decision making process if there is one, we must ensure it's accessible for everyone.
About this event
Lean and agile project management tools are terrible at accessibility. At best, it's treated as an afterthought.
TaigaNext is determined to provide unparalleled accessibility support as a core principle and a native benefit.
If you would like to know more about the intersection between accessibility and usability on TaigaNext and what's the TaigaNext promise regarding accessibility, be sure not to miss our next live stream!
As a bonus, you'll get a 5-min catch-up on TaigaNext overall progress and the chance to get your questions answered right away!
Go to the live streaming and set your reminder or register here and we'll send you an reminder via email so you don't forget when the streaming starts.
Date
Monday, December 5th
10 am EST (4 pm CET - 8.30 pm IST)
About the speaker, Pablo Ruiz Múzquiz
With a scientific-technical academic background, Pablo is our expert in agile with 20 years of experience developing projects with many different companies, teams and industries. He is CEO and co-founder of Kaleidos and Taiga, from where he promotes new productive, sustainable and committed models with a positive impact on society. He has participated in the design and development of more than 30 large technological projects.
Taiga is our agile open-source project management tool. Find out more on our website and try it for free! https://www.taiga.io/ You can also find loads of useful info and resources here: https://community.taiga.io/