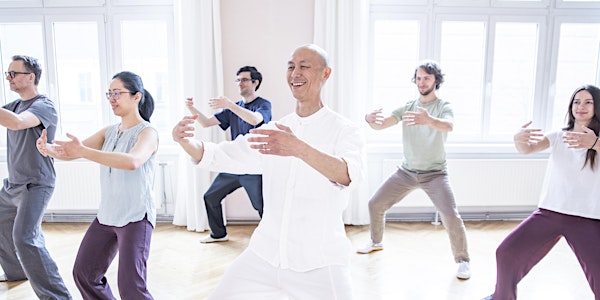 Tai Chi & Qigong Intro w/ Master Daniel Lee (Vienna + Online Everywhere)
"Tai Chi leads to more vigor and energy, greater flexibility, balance, mobility, and an improved sense of wellbeing." Harvard Medical Guide
When and where
Location
Yoga-Institut Dr. Schmida + (Online Anywhere) 1 Lehárgasse 1060 Wien Austria
About this event
Our Tai Chi is stylish, vibrant, and full of Energy. The Tai Chi Form is what you may imagine for your Health and Wellness: a slow motion routine of continuous and flowing movement.
Our Qigong is both authentic and modern in how we teach it. Qi means Energy. Gong means Skill. Qigong is Skill in improving your Energy and Health.
Class Info:
Tai Chi Beginner Intro: September 29th, 2022, (19:05-20:00) CEST
Qigong Beginner Intro: September 29th, 2022, (20:10-21:05) CEST
Location: (In-Person Attendance): Institut Schmida, Lehárgasse ½, 1060 Vienna, Austria.
Location: (Online Participants) via Zoom.
**RSVP IS VIA EMAIL OR EVENTBRITE ONLY.
**Tai Chi Classes will begin the following week on a weekly basis for the trimester.
**Qigong Classes will begin the following week on a bi-weekly basis for the semester.
**Classes will continue until end of June.
Daniel Lee is a certified Level 7 Tai Chi Master by the World Organization of Wushu Kung Fu Masters. He is also the Country Coordinator for Mantak Chia's Qigong system in Austria.
He is a formal student of Sifu 劉漢山 George Hon-Shan Liew (Hong Kong Tai Chi Assoc., Cheng Tin Hung lineage), and received his Qigong certification under direct supervision of Grand Master Mantak Chia. He is a certified Medical Qigong Instructor of the Korean Traditional Health Management Association, under Grand Master Pei Young Joon and Master Park U-Hyun.