Description
CIROC ULTRA PREMIUM VODKA in conjunction with
EUGENE THOMPSON PRESENTS & COOPERTREEZ MARKETING GROUP present…
NEW YEAR'S EVE CIROC ICE PARTY
hosted by TAHIRY from Love & Hip-Hop
Guaranteed to be the SEXIEST New Year's Eve Party in The Valley!!!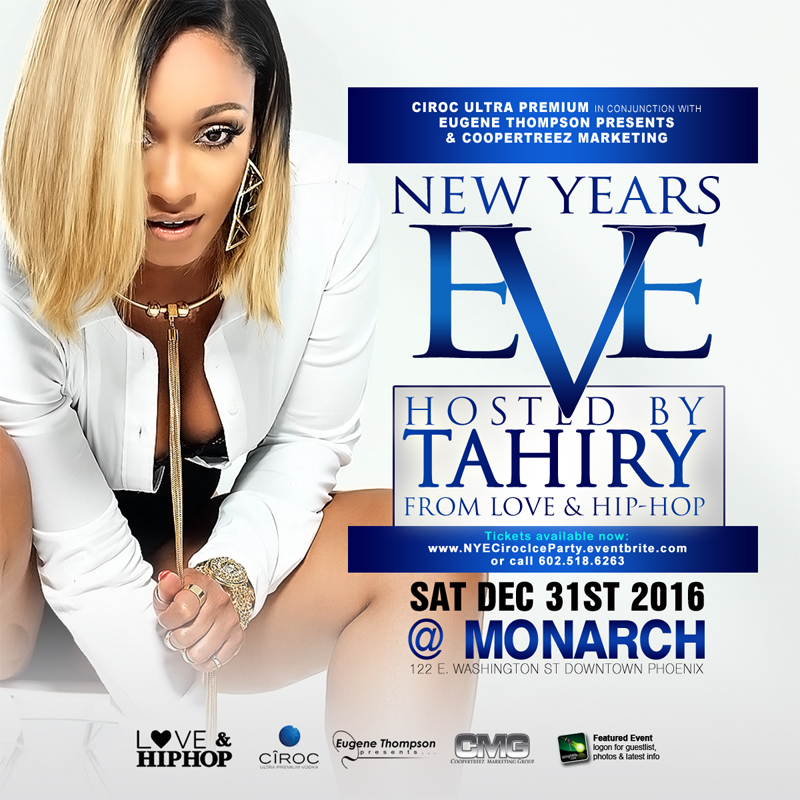 Saturday, December 31st 2016
At MONARCH THEATRE | 122 e. Washington St. | Downtown PhoenixAZ
Featuring:
4 DJs
2 Rooms
Smoking patio
Sectioned VIP Tables/Areas
Complimentary NYE party favors
Upscale dress code: NO EFFORT, NO ENTRY
Complimentary champagne toast at midnight
6 VIP Bottle packages to choose from
Hosted by Tio Gio from Power 98.3 & DJ Skilzz
Music by the hottest DJ's in The Valley
Main Room: DJ Robby Rob & DJ Sirplus
Lounge: Special Guests DJs
TICKETS:
$15 pre-sell tickets available until December 11th. The price will go up to $25 after the 11th. The last of the pre-sell tickets will be available from 12:00pm - 5:00pm on December 31st at Monarch Theatre. After that, all tickets must be purchased at the door.
https://NYECirocIceParty.eventbrite.com
VIP BOTTLE PACKAGES START AT $150
For more info or table reservations: 602.518.6263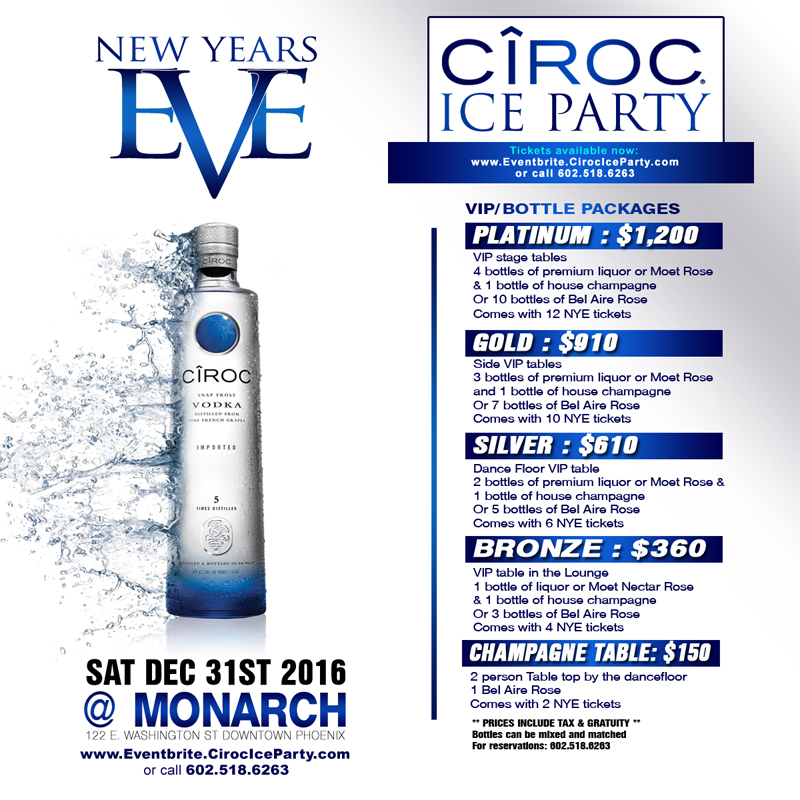 $150 – CHAMPAGNE TABLE TOP
2 person Table top by the dancefloor
1 Bel Aire Rose
Comes with 2 NYE tickets
$360 – BRONZE TABLE
VIP tables in the Lounge
1 bottle of liquor or Moet Nectar Rose and 1 bottle of house champagne
Or 3 bottles of Bel Aire Rose
Comes with 4 NYE tickets
$610 - SILVER TABLE
Dance Floor VIP tables
2 bottles of premium liquor or Moet Rose and 1 bottle of house champagne
Or 5 bottles of Bel Aire Rose
Comes with 6 NYE tickets
$910 – GOLD TABLE
Side VIP tables
3 bottles of premium liquor or Moet Rose and 1 bottle of house champagne
Or 7 bottles of Bel Aire Rose
Comes with 10 NYE tickets
$1200 - PLATINUM STAGE TABLE
VIP stage tables
4 bottles of premium liquor or Moet Rose and 1 bottle of house champagne
Or 10 bottles of Bel Aire Rose
Comes with 12 NYE tickets
$2700 - EXCLUSIVE LOUNGE VIP ROOM
The Lounge turned into your own Private VIP Room
w/ own exclusive DJ and private bar for private party
8 bottles of premium liquor or Moet Rose Champagne
Or 19 bottles of Bel Aire Rose
Comes with 25 NYE tickets
For more info or table reservations: 602.518.6263
-------------------------------------------
Pictures from past NYE parties