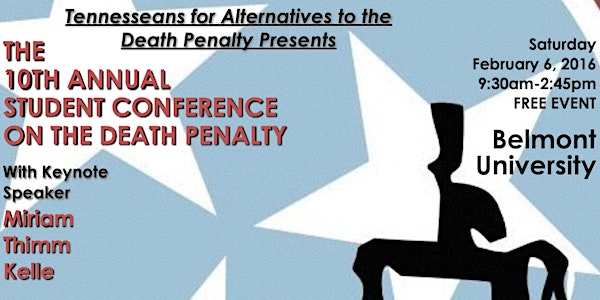 TADP Student Conference on the Death Penalty 2016
Event Information
Location
Nashville
1900 Belmont Blvd
Nashville, TN 37212
Description
Students and community members from across the state are invited to TADP's 10th Annual Student Conference on the Death Penalty. This year's conference will be held at Belmont University in the Wedgewood Academic Center Conference Room. Registration will begin at 8:30 with the conference starting at 9:30 a.m. and continuing until 2:45 p.m.

The conference will feature Miriam Kelle, who played a crucial role in convincing the Nebraska legislature to repeal the state's death penalty. Kelle has first hand experience with the system of capital punishment as her brother, James Thimm, was murdered by Michael Ryan in 1985. Ryan received the death penalty for his crime. Her testimony and leadership were instrumental in securing the recent legislative victory in Nebraska, the first "red" state to vote for repeal. TADP is honored to have her serve as our 2016 Student Conference keynote speaker.
The conference will also include the short film, "To Honor Life," as an introduction to the issue as well as two panel discussions to demonstrate the changing conversation about the death penalty in Tennessee and nationwide. The first will provide a conservative, media, and legislative perspective concerning how the conversation is changing and resonating with new audiences. The following panel will give participants a chance to hear from those who were wrongfully convicted and sentenced to death as well as the attorneys who helped them achieve their freedom after decades on death row in Tennessee.
Lunch will be provided.
T-shirts will be available with a suggested donation of $10.
For more information about Tennesseans for Alternatives to the Death Penalty (TADP), visit tennesseedeathpenalty.org
Date and time
Location
Nashville
1900 Belmont Blvd
Nashville, TN 37212