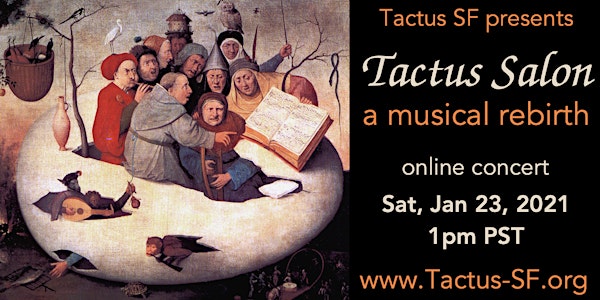 Tactus Salon: A Musical Rebirth
An Online Premiere of Solo, Small Ensemble, and Choral Projects
Refund Policy
Contact the organizer to request a refund.
Eventbrite's fee is nonrefundable.
About this event
Tactus SF members have been collaborating virtually on various solo, duet, chamber music, and group singing projects since we stopped organizing in-person rehearsals in March 2020. Our first Tactus Salon, held as an intimate private Zoom event in October 2020, was such a smashing success that we are opening our next Salon to a wider audience.
Choir members will showcase videos that they have put together over the past three months, as individuals or in small groups, in an immersive Zoom meeting. These videos are never-before-seen, even by other choir members! You'll get to join in on informal conversations as we unveil our creations to each other for the first time.
In addition to small projects, our founding director Tanmoy Laskar (currently working in the UK) and co-director Susan Swerdlow are leading rehearsals for a subset of the choir over the real-time music software Jamulus to prepare and record three choral pieces by Tallis, Palestrina, and Rossi for this event.
1:00-2:15pm PST: Main Event
2:15-3:00pm PST: Post-concert Virtual Reception
After the main program, join us for a "concert reception" in a Gather room, where you can use an avatar to walk around a virtual room and spontaneously video chat with groups of people, just like you would after a real concert - free food and drink not included!
How to access the event:
You will receive an e-mail from "Tactus SanFrancisco" with a personal Zoom link prior to the event.
You can also access the event through Eventbrite: Your ticket will include a private link to the Zoom meeting as well as the post-concert Gather location. You will access these materials through your Eventbrite account login by clicking "Access the event" on the right side of this page. The "Join Now" link for the Zoom meeting will become active 5 minutes before the event. If you click the button and the event has not yet started, you will go into a waiting room.
Eventbrite will send you reminders 2 days, 2 hours, and 10 minutes before the event. You will need to log in to your Eventbrite account to access the Zoom link, the concert program, and the concert reception.
Technical problems? E-mail us at tactussf@gmail.com and we'll help you out.