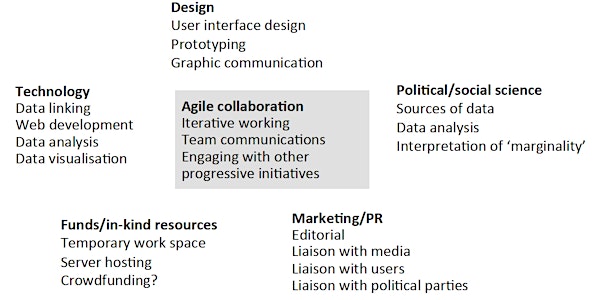 Tactical voting tools design hackathon
Event Information
Location
Newspeak House
133-135 Bethnal Green Road
Shoreditch
London
E2 7DG
United Kingdom
Description
Come and join us this Saturday to collaborate in the creation of online and offline tools to suppport voters to access the information they need to decide who to vote for in GE2017.
We can think of 4 themes to work around that might provide a useful focus for the day but are happy to hear other proposals at the start of the event when we'll use an 'OpenSpace' approach to chose what topics to work on. This builds on much of the work that's been happening in the past days and weeks.
We invite people with skills in UI, digital, data, political science, activism, media and communications to join us for a co-design session to build on and contribute to a range of initiatives which aim to build a progressive alliance and enable data-informed tactical voting on 8 June.
The organisers are a group of progressives from several parties. This event will use agile principles to enable all participants to collaborate and develop prototypes of ideas. The outputs will be made available for all participants - and others - to build on.
We have decided on four themes for the day.


1. Improving existing tactical voting platforms:
For example http://www.open-britain.co.uk/ which we think could do with some help from a UI perspective
See also our sketch for a data-driven tactical voting platform aimed at voters and activists, which combines election and Brexit data and links to other sites such as vote swap sites http://bit.ly/2pcs6MQ
See also many other initiatives listed here bit.ly/GE2017TechHandbook
2. Linking to the local:
How can voters find out more about stories/data/evidence around what is happening locally - correlated with parties and policies - to inform their vote on June 8?
3. Interpreting marginality:
What are the indicators that describe marginality beyond "what happened last time"?
4. Engaging offline for online engagement:
How do we communicate with voters across the UK, and help them connect to online resources they may find valuable but might not be aware of?
Who should come?
We need a mixture of people with different skills:
Technology
Data linking
Web/App development
Data analysis
Data visualisation
Design
User interface design
Graphic and communication design
System/service design
Communications and media
Communications strategy

Social media strategy and planning

Community engagement
Political science, social science and activism
Defining 'marginal' constituencies in GE2017

Social and political analysis

Data visualisation

Sources of data


To help us all understand what skills will be available on the day, please add your interest/skill/specilaism in the 'Job Title' field of the sign up form here on Eventbrite.
We'll be in touch with more information soon, in the meantime we look forward to seeing you this Saturday - be there at 10 am so you can help set the agenda for the day.
Date and time
Location
Newspeak House
133-135 Bethnal Green Road
Shoreditch
London
E2 7DG
United Kingdom