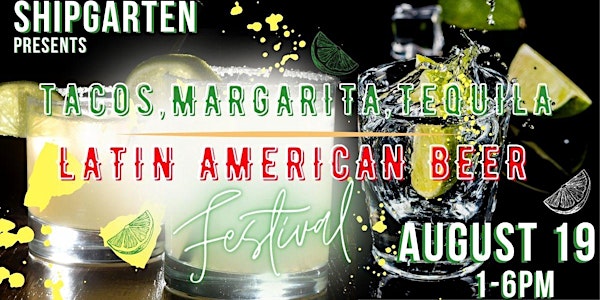 Tacos, Margarita, Tequila & Latin American Beer Festival
Come join us on August 19th from 1-6pm for our Tacos, Margarita, Tequila & Latin American Beers Festival!
Date and time
Saturday, August 19 · 1 - 6pm EDT
Location
Shipgarten 7581 Colshire Drive Mclean, VA 22102
About this event
***Shipgarten opens at 11 AM & the festival runs from 1 PM until 6 PM. Restaurant closes at 2 AM***
EVENT SCHEDULE:
♫ 12:30 -3:30 PM Thomas Starr
2 PM GAME
3PM GAME
♫ 4-7:30 PM Jason Clark
♫ DJ KHOZZ Live (8:00 PM-2:00 AM)
ADDITIONALLY:
➳100+ beer & cider samples from local breweries to choose from
➳ Photo Booth with Accessories
➳Great food
➳Dog Friendly (Check out our Dog menu, play in the dog park, or just bring your pup along)
➳ Bratwursts, Pretzels, Wings, & Special of the Day!
➳ Outdoor Games & Activities
➳ Giveaways, Competitions & Prizes
To see our Festival Beer Sampling menu, click here...
To see Tysons Biergarten's Beer Menu, click here…
To see Waffles & Tacos' Beer Menu, click here…