Tacos for Trinity - Autumn Celebration Benefit 2017 Presented by Regions Ba...
Description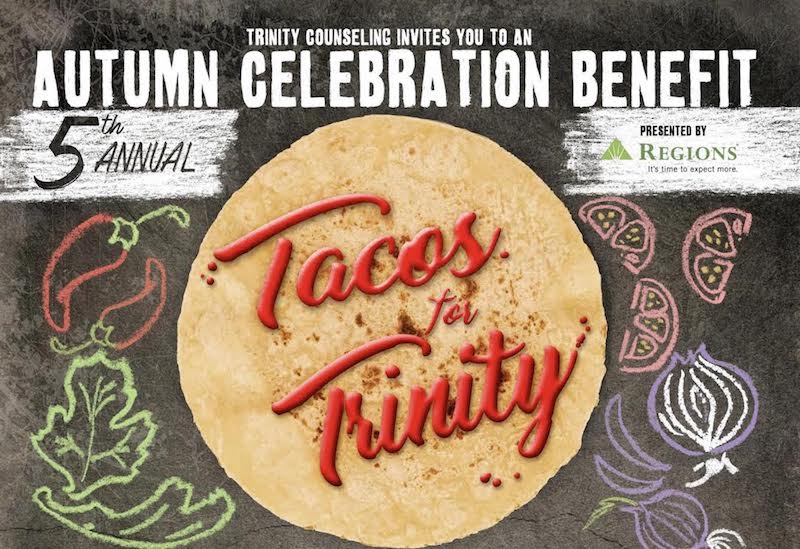 On Thursday, October 12, 2017, from 6-8 p.m., at Cahaba Brewing Company, our Junior Board and Host Committee will hold its 5th Annual Autumn Benefit—a unique evening of great food and music, fantastic prizes and atmosphere benefiting Trinity Counseling. As in years past, our guests will enjoy a fun, upbeat atmosphere with great food & music with an exciting Silent Auction. This year's theme is "Tacos for Trinity".
Our annual Autumn Celebration Benefit helps provide a significant portion of Trinity's annual budget, allowing the ministry to continue to provide much-needed mental health services to the community. We do hope you will "Save the Date", plan to attend and/or volunteer your help with some of the many details that will need to be addressed. If you would like to volunteer or serve on the Jr. Board, please call the office at 205.822.2730.
Ticket Prices
Pre-sale tickets: $35 individual / $55 couple
(includes entrance into the event, food, 2 drink tickets)
This is event is FAMILY FRIENDLY and we invite children 12 and under to attend FREE!
Why Support Trinity Counseling?
Trinity Counseling is a 501(c)(3) non-profit organization founded in 2000 that serves the greater Birmingham area by providing affordable faith-based counseling, mental health services, and support programs to those in need, regardless of their economic or financial status. Trinity Counseling also provides special support services to service providers. These individuals include pastors, mental health counselors, social workers, school counselors, military, police and first responders.

With more than 2 million Alabamians (260,000 in Jefferson County alone) living with some form of mental health or stress related disorder, funding for mental health services is more critical than ever. The number of individuals in need of mental health services in the Birmingham area alone continues to grow, especially during these challenging economic times.
Thank you in advance for your consideration in supporting Trinity Counseling. Your support and generosity will benefit not only Trinity Counseling, but the individuals and families of the greater Birmingham area.
Contact Us!
If you have any questions or would like additional information, please contact Arden Richards at 205.822.2730 or info@trinitycounselingbham.org.