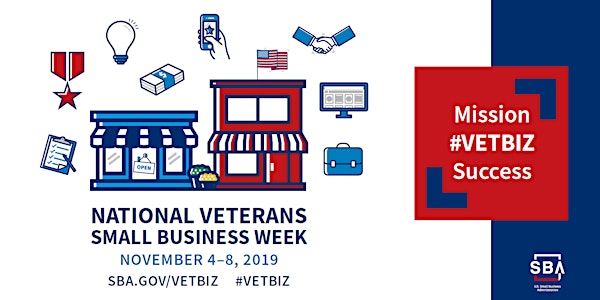 Tacoma - Opportunities & Obstacles for Veteran Businesses
When and where
Location
University of Washington Tacoma'a Veterans Incubator for Better Entrepreneurship (VIBE) Tioga Library Building (TLB) 307A 1907 Jefferson Ave - Third Floor Tacoma, WA 98402
Description
Nearly one in 10 small businesses nationwide are veteran-owned. Collectively, these 2.5 million small businesses employ almost 6 million Americans and generate more than $1 trillion in annual receipts.
When considering the management and leadership skills veterans develop while on active and reserve duty, it's no wonder we see so many choose the path of small business ownership.
The SBA and its partner the Veterans Business Outreach Center (VBOC) want to help you connect with government resources to start or grow your vet biz.
Please note the following event is available in-person only:
Thursday, Nov. 7 at the UW Tacoma VIBE:
Opportunities & Obstacles for Veteran-Owned Small Business
This event features an interactive panel discussion with local succesful veteran-owned businesses - find out how they achieved their success and get connected to the resources you need to start or grow at the small business resource fair.
Agenda:
9:00 – 9:30 a.m. – Doors open, check-in, networking
9:30 – 9:40 a.m. – Opening remarks, welcome
9:40 – 11:00 a.m. – Panel discussion with successful veteran business owners
11:00 a.m. – 12:00 p.m. – Resource fair & networking
In addition to this in-person event, please join us for the webinars presented by the Veterans Business Outreach Center (VBOC) for Vet Biz all week:
The following events are available online only:
Monday, Nov. 4 | 12 p.m. PT
Minimizing the Threat Against Data Breaches with Dan Velando of dvaDataStorage (Webinar)
Register at: https://sba-vboc.ecenterdirect.com/events/15917
Tuesday, Nov. 5 | 12 p.m. PT
Financing Your Veteran-Owned Venture (Webinar)
Register: https://sba-vboc.ecenterdirect.com/events/15918
Wednesday, Nov. 6 | 12 p.m. PT
Franchising 101 (Webinar)
Register:https://sba-vboc.ecenterdirect.com/events/15915
Thursday, Nov. 7 | 12 p.m. PT
Keys to Successful Network Building in and out of the Military Community (Webinar)
Register: https://sba-vboc.ecenterdirect.com/events/15916
Friday, Nov. 8 | 12 p.m. PT
Marketing Your Veteran-Owned Venture (Webinar)
Register: https://sba-vboc.ecenterdirect.com/events/15914