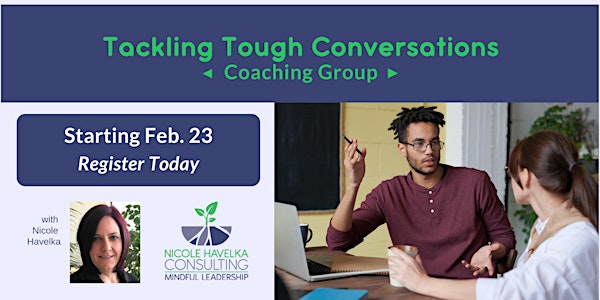 Tackling Tough Conversations Coaching Group
Set boundaries, advocate for yourself and others, facilitate change, and work toward justice in your workplace in this coaching group.
Refund Policy
Contact the organizer to request a refund.
Eventbrite's fee is nonrefundable.
About this event
Can you remember your parents telling you to avoid talking about controversial topics like politics and money at family gatherings? Early on, we learn -- both from these clear parental directives and through more subtle social hints -- to avoid talking about hard things. And we carry those habits into the workplace.
But that practice doesn't really serve us very well.
Avoiding the hard stuff helps get us through for a short time, but is not a strategy for forming work teams, nonprofit boards, congregational leadership and other professional groups. This avoidance strategy is backfiring as we execute work projects, handle employee reviews, tackle change brought on by COVID and other cultural/market forces, advocate for diversity, equity and inclusion in the workplace, and when we set boundaries we need to preserve our own health and well-being.
Now is your chance to learn, alongside some kindred spirits, how to breathe through discomfort, prepare for a hard conversation, plan a larger change initiative that meets resistance – all the while approaching it with an open mind, caring heart and listening ears.
In this confidential coaching group you will meet for 2 hours via Zoom on the 4th Tuesday of each month January - June 2021, have access to a private Facebook group for ongoing conversation and support, and get a preliminary 30-minute coaching session with Nicole to shape your group coaching goals.
Sessions will take place 1-3 PM ET Feb. 23, March 23, April 27, May 25, June 22 and July 27; Exact time of the sessions may change by consensus of the whole group.
Sessions will include:
Deep, honest, caring conversation facilitated by Nicole Havelka in a supportive, confidential environment
Discussion of the management book, blog, and podcast Radical Candor by Kim Scott as well as other relevant resources.
Custom-designed mindfulness group practices that will support you through the challenges of having hard conversations
Join us for this opportunity that will help you give feedback, advocate for yourself and others, facilitate change, and work toward justice in your workplace.
Space is very limited for this opportunity (up to 7 people) and requires that you make a commitment to attending each session (except for major emergencies), doing the outside reading/viewing/listening each month (1-2 hours), and responding to conversations in the Facebook group 1-2 times per week.
Scholarships and payment plans are available. email Nicole at defythetrend@gmail.com for details.
About Nicole: Nicole Havelka is a mindful business consultant, a reverend, and a yogi. She has maneuvered countless hard conversations with family, friends, and especially in her work with organizations struggling through change. She is also a reiki master and trained in iRest meditation (soon to be a Registered Yoga Teacher at the 500-hr Level). She has a background in yoga (including yoga for youth, restorative yoga, and trauma-sensitive yoga). She is the owner and lead consultant at Nicole Havelka Consulting.