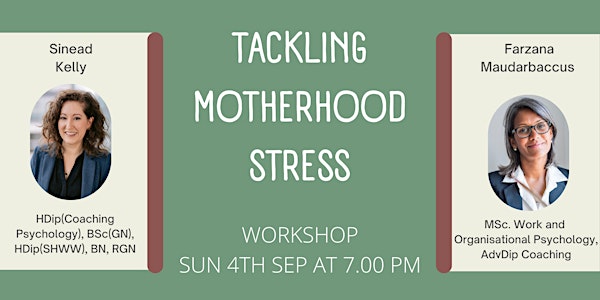 Tackling Motherhood Stress
Take control of how you manage stress as a mum and get tools to deal with stressful situations!
About this event
Motherhood is a life changing experience which brings joy as well as unexpected challenges. Let us share our expert tips and tools on how to practically look after yourself so that you can be energised for your little people.
Maybe you are feeling:
• a lack of energy
• overwhelmed with all the things that you need to do
• that you don't have the time to look after yourself
You will leave feeling empowered to bring more balance and energy into your life whilst also feeling confident giving to your family from a strong and nourishing place.
This workshop will cover:
• Exploring what motherhood stress is, its impact on your physical and mental health as well as your relationships
• Why looking after yourself is so important for tackling motherhood stress
• How to deal with stress when it arises in the moment
• Assessment of your own personal health and wellness
• Step by step tools for introducing realistic and lasting healthy habits to care for yourself starting now
• We will end with a nourishing and motivating meditation
Added extras:
• There will be time for questions and answers at the end
• All participants will receive a free reflective journal pdf
• The event will be recorded for those that can't make it on the evening.
About the facilitators:
Sinead Kelly is a Self Health Coach who combines her Occupational Health Nursing experience with Coaching Psychology to support busy professionals to take charge & embrace their own health & wellness. www.sineadkelly.ie
Farzana Maudarbaccus is a Work & Organisational Psychologist who works with small and large organisations in the area of management consulting and executive coaching. She also works with mums & dads who feel frustrated about either their professional career or being a stay-at-home parent and want to find their true purpose so that they are more motivated to achieve their own dreams and be more fulfilled. farzanaconsulting.com