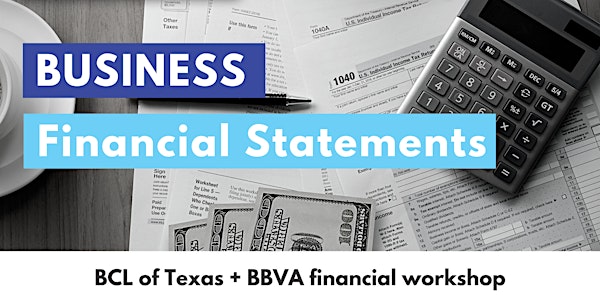 Tackle Your Financial Statements for Business Growth
Join financial experts at BCL of Texas & BBVA to learn the basics of business documentation.
About this event
Financial statements might seem tedious and confusing, but you can conquer them with these tips!
Financial documents are a necessary part of ensuring your business's long-term success, and this class will help you master them.
Topics covered in this session:
Balance sheets
Profit and loss statements
Cash flow reports
Additionally, you'll have the opportunity to work with a professional to prepare the documents you need for your business at the end of the class!
About BCL of Texas
BCL of Texas is a 501(c)(3) nonprofit economic development organization providing lending, homeownership, entrepreneurship, and community development programs to fulfill our mission of Building Strong Communities across Texas.
About BBVA
BBVA's Center for Financial Education is an initiative to create opportunities for over 15,000 people in 2020 by helping them increase their financial knowledge. Through financial education workshops focused on personal finance, home ownership and small business, BBVA Financial Capability Coaches promote the importance of financial health and share expertise with communities.