Table Saw Basics - Intro/Demo

Multiple Dates
Event Details
Table Saw Basics - Intro/Demo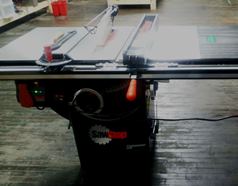 What's that machine in the center of almost every wood shop? It's the table saw!
In this free course, we'll demonstrate fundamental table saw techniques of ripping, miter-gauge use, and panel cutting. We'll also discuss the essentials of working safely: eye and ear protection, push sticks, featherboards, and safe cutting techniques. You'll gain an understanding of how proper table saw use can enhance your next project. 
This class/demonstration will be led by Jeff Faust. Jeff has been a professional woodworker for over sixteen years, and currently works for a local furniture manufacturer.
Please note, this class is an introduction to the table saw for those with little or no experience with this versatile tool. If you've ever wondered about the world of wood working sign up and enjoy learning from a true expert. Jeff will be offering a follow-on class for beginners, if you're interested, where you'll have a chance to get some hands-on experience on the Rochester Makerspace's brand new SawStop table saw.
Organizer
Rochester Makerspace
The Rochester Makerspace is a nonprofit community workshop and art studio located near downtown at 850 St. Paul Street. We're here to encourage learning, creativity and collaboration by providing low-cost and free access to sophisticated tools, offering a wide variety of classes, and by providing opportunities for "makers," artists and craftspersons of all kinds to meet and interact with each other.
In addition to the classes and events listed on this page we also invite to attend the following activities, which do not require registration or a ticket:
 Every Thursday Night from 6 to 9:30 PM and Saturday Afternoon from 11am to 3pm- Weekly Community Open House.
You are invited to come and use the Rochester Makerspace for free. Bring something to make or work on, help with a group project, or just come to meet other "makers" and see what we have to offer. (Sorry, but nonmembers can not use our wood or machine shops because of insurance issues.)
 Every Thursday Night from 6:30 until 9:00 PM - Rochester Stained Glass Meetup
Learn how to work with stained glass or bring a project to work on if you already know how. We have lots of tools and grinders and enough supplies to teach you the basics. We also usually have an instructor. Free.
 Every Thursday Night from 7 until 9:30 PM - Microcontrollers & Robotics Meetup
Work on your Arduino, Raspberry Pi, Beaglebone projects with other users of these small inexpensive computers. All skills level are welcome and you don't need to be a member. We'll help you by sharing our knowledge and experience.
A family membership currently costs $40 per month and it gives you access to these tools and other tools every day from 8 AM to 10 PM.
A woodworking shop with a new SawStop professional cabinet table saw, a new Rikon Deluxe 14-inch bandsaw, a Jet 6-inch planer, a Grizzly 15-inch thickness planer, a chop saw, a drill press, two scroll saws, a central dust collection system, and an air filtration unit.

Lutzbot Mini and Two Solidoodle 3D printers
An electronics bench with oscilloscopes, power supplies, soldering irons, and more.

A Computer Lab
Arduino and Robotics workstation
Machine Tools
Sewing machines
Stained glass grinders and tools
Silhouette Machine
Laser Cutter
Workspace and work tables
Table Saw Basics - Intro/Demo