Tabernacle of David Singapore "End times E-Conference" สัมมนาออนไลน์เรื่องยุคสุดท้าย
About this event
Welcome to Tabernacle of David (TOD)
End Times e-Conference
M62 LIVE
Sat 22 Jan 2022 @ 3:00 PM (Singapore Time / GMT+8)
The world has entered into an unprecedented Financial Era that will lead to collapses, Bondage, Control and Ultimate judgement by God! Are you preparing for all these which will definitedly happen?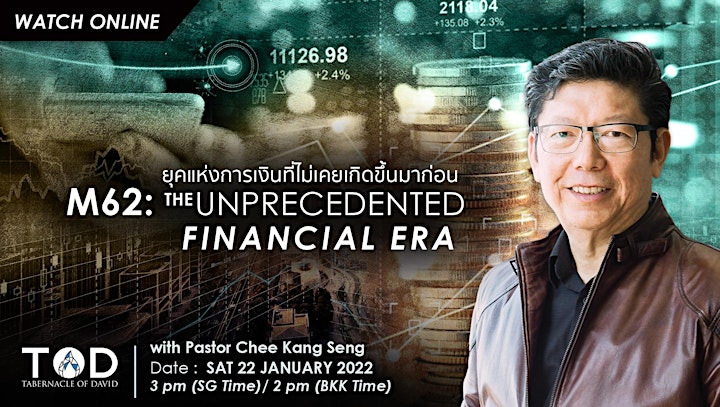 ยินดีต้อนรับทุกท่านสู่ TOD End Times e-Conference
หัวข้อที่ 62 (ถ่ายทอดสด)
(คำสอนเป็นภาษาอังกฤษ พร้อมการแปลสดทางซูม และซับไตเติ้ลภาษาไทยในภายหลัง)
โลกนี้ได้เข้าสู่ยุคการเงินที่ไม่เคยเกิดขึ้นมาก่อน ที่จะนำไปสู่การล่มสลาย พันธนาการ การควบคุม และท้ายที่สุดคือการพิพากษาของพระเจ้า! คุณกำลังเตรียมตัวสำหรับทุกสิ่งเหล่านี้ที่จะเกิดขึ้นอย่างแน่นอนหรือไม่?
Organizer of Tabernacle of David Singapore "End times E-Conference"
A Kingdom Prophetic Family hosting the presence of God, revealing the beauty of Jesus Christ, resting in His finished work at the cross, rising up in His resurrection power, and demonstrating the supernatural principles and mighty works of the Kingdom of God to restore people to walk in His glory.