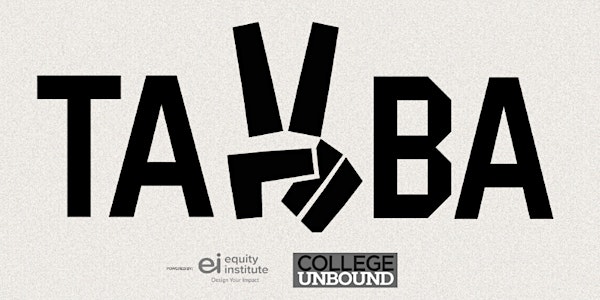 TA2BA Seminar
Monthly TA2BA Seminars
When and where
Location
225 Dyer St 225 Dyer Street Providence, RI 02903
About this event
*Breakfast will be provided for all in person events.
[Seminar 2] My Identity: Building Socio-Cultural Consciousness
September 24, 2022 (In Person)
Participants will explore elements of their social identities and examine the impact of how these identities inform the ways they've navigated society and their own education. The goal of Seminar 2 workshops is for discussants to identify stereotypes that have impacted them, rethink their own perpetuations of biased ideas, and support how to respond to biased perceptions placed upon them or their students in the future.
[Seminar 3] Identity in the Classroom: Building Socio-Cultural Consciousness
October 22, 2022 (In Person)
Participants will explore how students' identities impact an educator's role in the classroom and analyze their own experiences as educators as a result of their own socio-cultural consciousness. By the end, participants should understand and generate tips for self and peer review to support student identities and continue to build socio-cultural awareness as an educator in the classroom.
[Seminar 4] Pedagogy of the Oppressed: Applying Socio-Cultural Consciousness
November 19, 2022 (In Person)
Participants will examine how schooling systems fundamentally oppress non white students and their cultural identities and draw comparisons to their own schooling experiences within and outside of the US. Conclusively, participants will reflect on alternative models of education like critical pedagogy techniques modeled by the seminar and explore ways to bring it to life in their own future classrooms.
[Seminar 5] Virtual Speaker Session - Community in the Classroom: Applying Socio-Cultural Consciousness
December 10, 2022 (Virtual)
This seminar will host our first speaker of the series, educator Mario Benarbe. Mario is a mentee of HipHop Ed founder Chris Edmin, mathematics decolonizer, and Montessori education leader from the Bronx, NY. He is currently in his 3rd year leading a Montessori led Community Based Charter School and works to 'develop the whole child' from his local community by bringing the community into his classroom and his classroom into the community. Learners will have the opportunity to learn about and from these practices, as well as collaborate to come up with their own ideas on how to connect learning in the classroom to students' local communities.