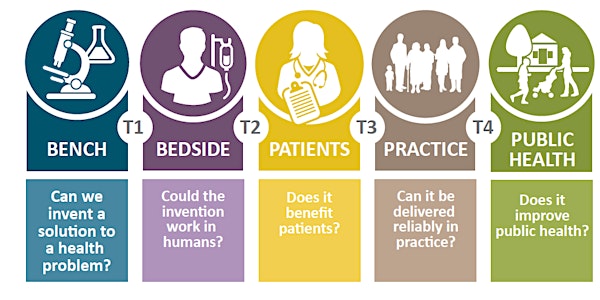 T1 to T4 in 3 Minutes Challenge 2022
Online event that highlights multidisciplinary translational science projects at UT Health San Antonio.
About this event
WHAT IS THE T1 to T4 in 3 (Minutes) Challenge?
This virtual challenge highlights multidisciplinary UT Health SA research projects that fall within the spectrum of translational science. Presenters share their research in 3 minutes to a live, mixed audience of community members, students, and faculty utilizing language and concepts that are easy to understand – with 1 slide.
WHY SHARE RESEARCH FINDINGS?
Events like this are opportunities to engage with the community and other disciplines to help increase the reach, effectiveness, uptake, and implementation of health research.
ELIGIBILITY
PRESENTERS - All health research topics are welcome.
Category 1: Community members who have partnered with a UT Health SA investigator (PI) on a community-engaged health research project.
Category 2: UT Health SA Translational Science Students and KL2 Scholars and TL1 Trainees.
AUDIENCE
Community members, faculty, staff, and students are welcome!
TRAVEL AWARD PRIZES
1st place - $750 | 2nd place - $500 | 3rd place - $250
People's Choice Award - $1,000
DEADLINE
Interested presenters, register and submit presentation title by June 1, 2022.
LOG-IN INFORMATION
Join Zoom Meeting: https://zoom.us/j/93580981393
Meeting ID: 935 8098 1393
Passcode: UTHealth1!
QUESTIONS?
Community partners interested in presenting contact IIMS-CE@uthsca.edu
Translational Science students and trainees interested in presenting contact - Machuca@uthscsa.edu