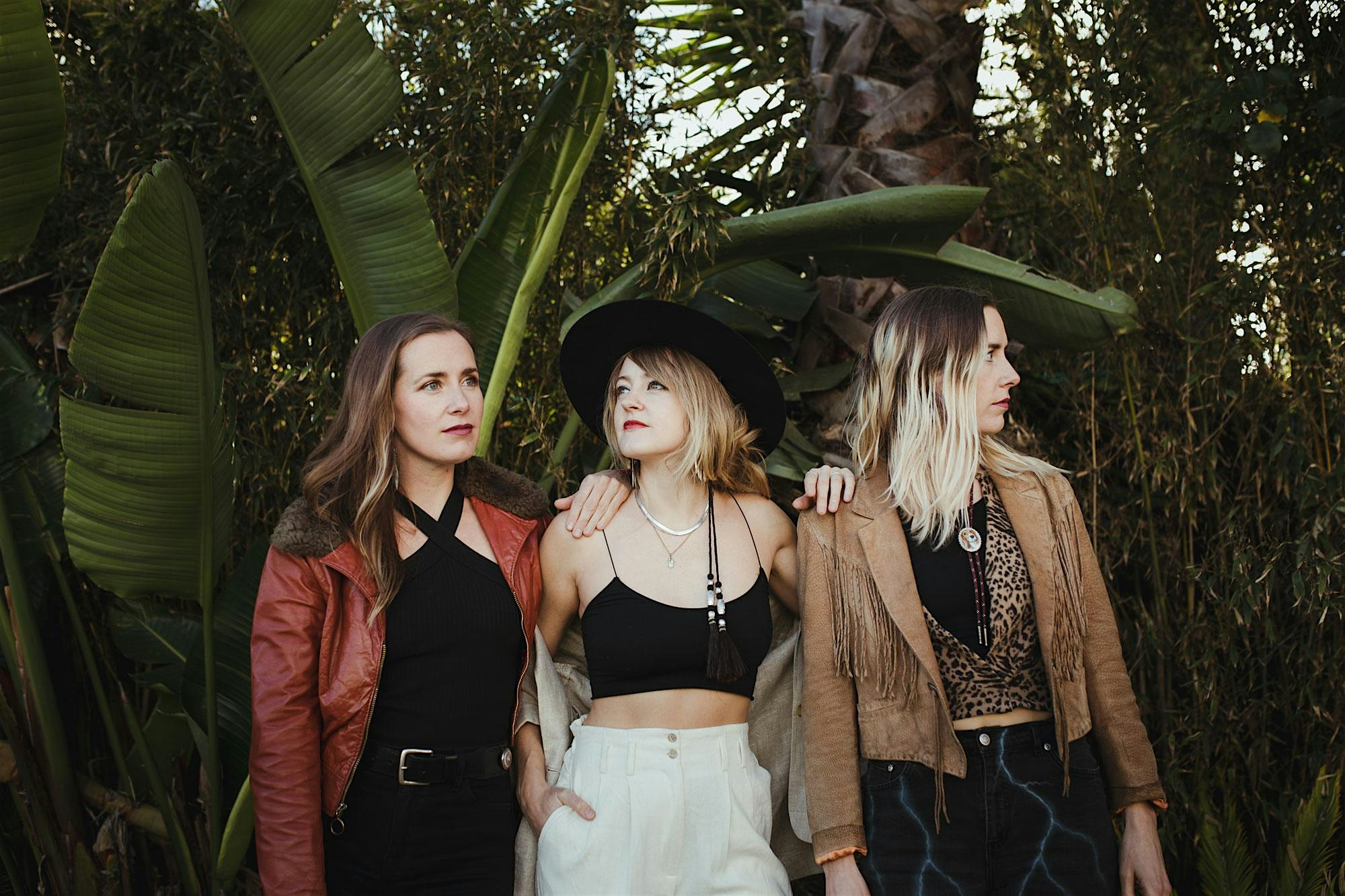 About this event
This show is partially seated.
T Sisters
The T Sisters, born and raised in California and now based in the creative hub of Oakland, embody harmony. It's in their blood, bones, and history. They have been singing and writing music together since childhood, and the lifetime of practice shows.
The group is made up of Erika (guitar, vocals), Rachel (guitar, banjo, vocals) and Chloe Tietjen (percussion, vocals). Distinguished by close harmonies, catchy melodies and potent lyricism, the T Sisters' sound represents a continuum of music: from roots to pop influences, moments of stunning a cappella to swells of groovy indie folk. The sisters' contemporary yet classic sound invites a range of likenesses, with classic harmonies akin to the Pointer Sisters and the Everly Brothers and modern kinship with family bands like the Avett Brothers and First Aid Kit. With their soaring sibling harmonies, sassy stage presence, and inventive songwriting, these three sisters embody a fresh and soulful take on folk/Americana. The trio gains a whole new dimension when they add their powerful rhythm section of Steve Height on bass and Marlon Aldana on drums.
In the last few years, they've been honored to support such acts as Amos Lee, The Wood Brothers, Todd Rundgren, Elephant Revival, The California Honeydrops, and more. Notable performances include Merlefest, Kate Wolf Music Festival, High Sierra Music Festival, Hardly Strictly Bluegrass, Sisters Folk Festival, Strawberry Music Festival, Americana Music Association Festival, Music City Roots, and Garrison Keillor's 'A Prairie Home Companion.'
Following their 2014 debut album Kindred Lines (produced by folk/bluegrass legend Laurie Lewis), the T Sisters released their self-titled full-length album in October of 2016, followed by Live at Telephone, an EP recorded live to tape at Tiny Telephone Studios in San Francisco, CA. They are currently working on the next album, the first part of which has been recorded in Nashville at Alex the Great Studio under the production of Oliver Wood (The Wood Brothers).
Cosa Nostra
A branch of the illustrious Jazz Mafia, COSA NOSTRA STRINGS, specializes in original Hybrid Crossover music. Ranging from acoustic heavy metal to power ballads and everything in between, they utilize their unique instrumentation of cello, viola, violin, trombone, bass, and percussion to the fullest extent. This five-piece powerhouse crew features conservatory-trained classical musicians who bring a provocative, precise, punk-rock personality to a highly distinguished multi-style sound. Spanning centuries of genres, you'll hear diverse influences from around the world: funk infusion, folk, western chamber music, jazz, and most certainly 80's rock ballads (because a set wouldn't be quite complete without them!).
Cosa's successful 2018 season included feature performances at SFJAZZ - where they were named young artists to look out for - Yerba Buena Gardens Festival, Point Richmond Jazz, Yoshi's, UnderCover Presents, and an eight week run with The Soiled Dove. They are also heavily featured on violinist Shaina Evoniuk's recent release Hitwoman Honey, and are currently working on their own debut album of original works to be released in 2019.
An instrumental-based band, Cosa Nostra Strings thrives in collaboration! They have collaborated with members of The Roots, Blackalicious, Beats Antique, and the most in-demand rap artists on the West Coast. Upcoming releases include collaborations with The T Sisters, Otis McDonald and Lilan Kane.
They will give you the unexpected and you will most certainly want more!
Organizer of T Sisters, Cosa Nostra @ Swedish American Hall