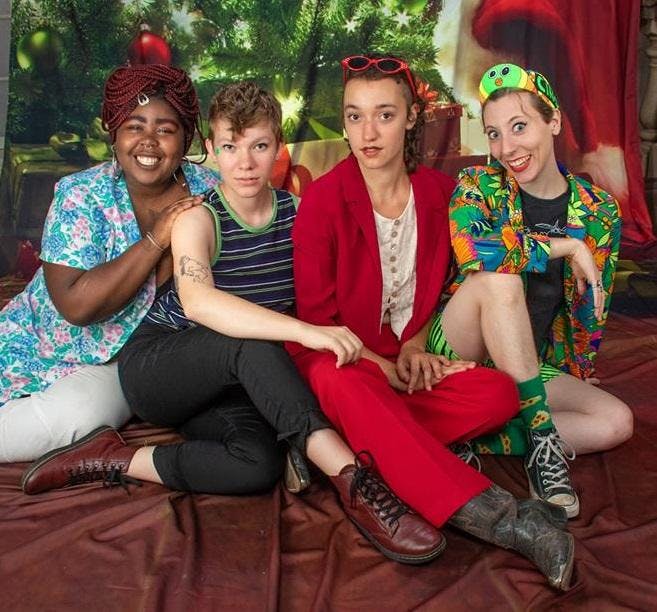 About this Event
$8 (advance), $10 // 21+
-------------
T-REXTASY doesn't have time for pleasant pet names or deadbeat dudes. They're a band that seamlessly weaves whimsical melodies with uncompromising lyrics, critically examining the politics of performing femininity. This self-proclaimed "New Wave" band, has found their own unique sound in the New York DIY scene, adamantly refusing to be shoved into labels like "girl band" and "Riot Grrrl." "I think that it is a term that potentially minimizes the musical complexities of bands that don't have cis men in them," drummer Ébun Zoule Nazon-Power said in an interview with Tom Tom Mag. Since the release of their 2016 debut album, Jurassic Punk, the band has been juggling touring and school and finally gifted us with their 2018 single "Girl,Friend" which undertakes the grey area between friendship and romance. Come revel in the punk tenacity of these New York subverters tonight at the Empty Bottle.
GRAVES is the project of Chicago based, Queer LatinX artist Andrew Acedevo. Beneath the muffled lyrics of GRAVES' bedroom pop tunes are meditations on the contortions of emotional highs and lows as well as inescapable cycles of self destruction. However, GRAVES still takes time to appreciate life's beauty in "Wedding Song," which celebrates Acedevo's grandparents' 60 years of marriage. Get ready to dance, laugh, and cry tonight with your new favorite, GRAVES.
Before MERMAID's inception, friends Shiri, Ro, and MC began creating music in a basement studio on Chicago's southside. Throughout random jam sessions in 2014 singers Viviana and Mey were integrated into the group, resulting in the birth of MERMAID NV. These 5 queerdos collectively nurtured MERMAID NV for what is today. Since then we have had several members come and go. Today MERMAID NV consists of the trio Brandon, Shiri, and Ro.