T-PAL 5K and 1 Mile Fun Run 2015

Saturday, May 30, 2015 from 8:00 AM to 11:00 AM (EDT)
Event Details
The T-PAL 5K is a fundraiser for the Tallahassee Police Athletic League. The mission of the Tallahassee Police Athletic League, in part, is:
To provide youth an opportunity to grow under the sustained guidance of dedicated adults.
To assist youth in developing self-esteem and provide them with the skills to help them to stay in school.
To provide and coordinate programs and activities which contribute to the development of character, integrity, mental fitness, citizenship and personal well-being.
The Police Athletic League builds interaction between the community and local law enforcement. The T-Pal 5K not only raises funds to assist in that effort, it provides a positive interaction between the police department and our local community. Building in the T-PAL's efforts, the Red Tail Running Club, sponsored by Gulf Winds Track Club, seeks to promote running and fitness among Tallahassee's youth.
Date: May 30, 2015
Time: 8:00 a.m. (P-47 Thunderbolt 1 Mile); 8:30 a.m. (T-PAL 5K)
Place: Jack McLean Park, 700 Paul Russell Road, Tallahassee, FL 32301
Course: The P-47 Thunderbolt mile course will consist of an out and back course starting in the Park, while the T-PAL 5K will run through the surrounding neighborhoods, including a section along the Campbell Connection Bike trail, which is designed to connect Jack McLean Park with Rails to Trails. You can find a map of the course at _______.
Fees: Register on line on or before May 24:
Adult (16+) with Shirt: $15 ($18 after May 24; $20 race day)
Adult (16+) no Shirt: $10 ($12 after May 24; $15 race day)
Child (15 & under) with Shirt: $10
Child (15 & under) no shirt: $5
There is a $2 surcharge for paper registrations.
Race Day registration is $20 with a shirt and $15 without.
Race Day registration will begin at 6:30 and end at 7:45.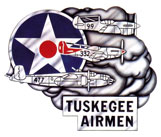 Before the Tuskegee Airmen, no African American had been a U.S. military pilot. In 1939, Congress designated money for the training of African American pilots. Although there were believed to be only 124 African American pilots in the U.S. at that time, the Army Air Corps soon received many applications from pilots qualified for the program. By 1943, the Tuskegee Airmen entered combat duty. The airmen flew escort for Allied bombers during World War II and became known as the "Red Tails" for the distinctive red tails on their planes. The Red Tails were some of the best pilots in the U.S. military, flying 1,578 combat missions and earning three Distinguished Unit Citations, 96 Distinguished Flying Crosses, one Silver Star, 14 Bronze Stars, 744 Air Medals and 8 Purple Hearts. On March 29, 200,7 the Tuskegee Airmen were awarded the Congressional Gold Medal, the highest civilian honor available in the United States, by President George W. Bush. GWTC and TPAL have joined forces to sponsor the Red Tail Running Club in hopes of presenting the spirit and bravery of the Tuskegee Airmen to our youth today.
When & Where

Jack McLean Park
700 Paul Russell Rd
Tallahassee, FL 32301


Saturday, May 30, 2015 from 8:00 AM to 11:00 AM (EDT)
Add to my calendar