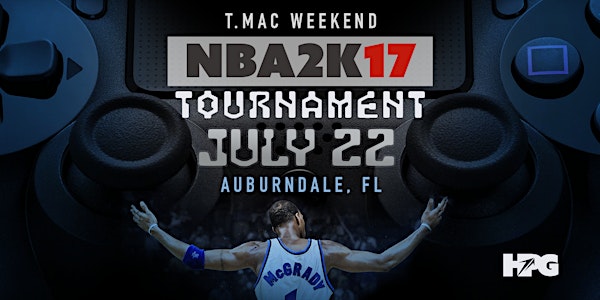 T-MAC Weekend - Gamer Tournament
When and where
Location
1 Bloodhound Trail Auburndale, FL 33823
Description
T-MAC WEEKEND Gamer tournament.
Registration Opens Jun 1.
NBA Hall-of-Famer and 7 time NBA Allstar Tracy McGrady will be holding a "TMAC Weekend" in celebration of his Hall-of-Fame status. The community is invited to participate in all the exciting events scheduled for Jul 21 - 23, 2017. Learn more about TMAC Weekend
In addition to the adult basketball tournament, there will be gaming tournaments to help raise money for the STIX to GLORY Scholarship Gaming Tournament that will be presented by the Tracy McGrady Foundation next school year.
Get Registered
Gamers are encouraged to register quickly to claim one of the 16 tournament slots. Are you skilled enough to compete?
Gamers have the opportunity to compete at
Prizes
Winners will walk away with their respected trophy and dubbed the NBA2k17 Champion of TMAC Weekend. There will be other prizes and raffles at the event. Bring a friend.
Remember!
Only 16 slots available gamer slots.
Rules
Tournament rules will be emailed to gamer upon registration.
About Tracy McGrady
7 Time NBA All-Star Tracy McGrady, known to the world as "T-Mac," was born in Bartow, FL. He grew up in Auburndale, FL. At Auburndale High, he quickly became a two-sport star. He loved baseball and had aspirations of playing in the Major Leagues. Some Auburndale coaches were certain that McGrady would be playing in a Major League ballpark instead of on a NBA court. Read More
About High Point Gamer
High Point Gamer is Central Florida's premiere host of quality gaming events. Our goals is to plan out enjoyable gaming events that allow participants to connect and compete in person. We are known for helping brands extend their reach into the gaming industry. Learn More about HPG
About STIX to GLORY
The STIX to GLORY Scholarship Gaming Tournament is an e-sports event for students to use their gaming skills to earn money to help fund their continued education. All donations are welcomed.