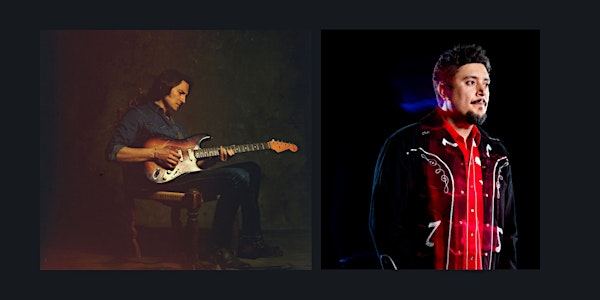 Szlachetka & George Hage (Jack the Radio)
Location
The Evening Muse
3227 N. Davidson Street
Charlotte, NC 28205
About this event
Young Heart, Old Soul, the upcoming third album from roots-rock singer/songwriter Szlachetka, unfolds like the soundtrack to a cross-country road trip. Filled with heartland hooks, folk melodies, and searing electric guitar, these songs draw a line between Los Angeles — where Szlachetka lived for years, soaking up the warm harmonies and jangling riffs of the city's folk-rock icons — and his new home in Nashville, TN, the epicenter of modern-day Americana.
For the past half-decade, he's been building his audience show-by-show, touring for more than 200 days a year while earning praise from outlets like Rolling Stone Country, who hailed his catalog of "road-dog roots-rockers and Americana ballads." Young Heart, Old Soul finds him in transit once again, writing songs about a country torn apart by politics yet united by a common spirit. Produced by Scott Underwood, the Grammy-winning co-founder of Train, and largely recorded at Nashville's legendary Blackbird Studios, Young Heart, Old Soul offers its own version of amplified Americana music. Unlike the two albums that came before it, though, Young Heart, Old Soul is also a record about home — the homes we leave behind, the homes we temporarily visit, and the homes we build with others. Maybe that's why these 11 songs feel so grounded. After all, Szlachetka — whose self-made success includes high-profile shows alongside Brandi Carlile, Mike Campbell, and Blackberry Smoke's Charlie Starr and Benji Shanks; regular appearances on SiriusXM's Tom Petty Radio; and his own DittyTV program, Vinyl Recipes, which combines his love for music, cooking, and cocktails — isn't running anymore. Instead, he's finally arrived.
"Lyrics right for the times, but it's the guitarist's fleet-fingered leads that put this one over the top." – Rolling Stone
"Driven by stirring acoustic fingerpicking, Old Soul preaches inclusivity and acceptance, and will have you longing to seek the communion of live music once again."- Guitar World
"On "Old Soul," Szlachetka's lyrics zoom right in and capture the timeless, unchanging aspect of the countless gathering places across the country filled with old disco balls, lived in couches and the calloused hands of friendly husbands and wives who have seen it all and still greet you with a comforting, welcome smile."
- American Songwriter
"The spare beauty of these songs should accompany any road trip or any night in front of the fire at home"
-No Depression
Facebook | Spotify | Instagram
************
George Hage is an American songwriter and artist. Hage was born in Charlotte, North Carolina and grew up in the Charlotte-Concord area before planting roots in Raleigh. He first picked up a guitar at age thirteen after hearing his neighbor's dad play licks from Led Zeppelin's Houses of the Holy on his late 60's Gibson acoustic.
Hage is the frontman for the Raleigh, North Carolina roots-rockers Jack The Radio and is a former member of New Reveille and Yearling, and has toured as a guitarist for American Aquarium. He and Jack The Radio have shared the stage with The Avett Brothers, George Thorogood, and Rayland Baxter. His music has been featured in commercial, film, and TV projects including Modern Family, Boardwalk Empire, Graceland as well as in AEW, NASCAR, and NFL programming.
Americana UK has described his music as, "A fine blend of guitar-driven southern rock and Americana, the perfect soundtrack to that road trip!" and American Songwriter described his last album as, "…a multi-medium work of art that is so unexpected and creative that it's difficult not to stop and explore with fascinated interest…"