Description
The Royal Norwegian Honorary Consulate General and Syttende Mai Committee cordially invites you to join us for the annual celebration of Norway's Constitution Day.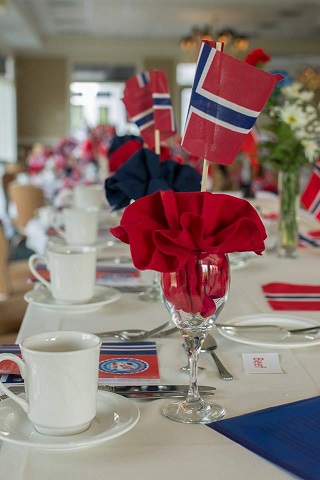 5:00 p.m. Reception
Hosted by the Royal Norwegian Honorary Consulate General
6:15 p.m. Dinner & Program
Organized by the Syttende Mai Minnesota Committee
Guest Speaker: Ambassador Hans Brattskar, Special Advisor for Indigenous Peoples Issues and Sustainable Development at the United Nations




Dinner selections include:

Surf and Turf: Petite Tender 4 ounces and Roasted Salmon

Vegetarian Entrée:

pesto penne pasta with roasted red peppers, grilled portabella mushrooms, sautéed red onion & parmesan cheese

Each meal includes a salad and dessert

The cost to attend is $60.00 per person

American students and Norwegian students under 30 may attend for $25.00 per person (must show a valid I.D)- contact 17maicommittee@gmail.com to register
Reservations and pre-payment are required. The registration deadline is Thursday, May 13th at 12 p.m. Seating will be available on a first come, first serve (Open Table) basis unless you reserve an entire table (see below). Please include your meal selection with your registration.
You may reserve an entire table (10 seats) only if you submit payment in full ($600) all at once, plus all of your guests' names and meal selections with your reservation.
send an e-mail to the 17maicommittee@gmail.com address or else we cannot guarantee you will be seated at the same table.
Direct any questions to: 17maicommittee@gmail.com
We look forward to having you join us! Thank you!