Sales Have Ended
Registrations are closed
Thank you. See you at SYSTOR 2021 http://www.systor.org/2021/live.html Join us on slack: https://acm-systor.slack.com/
Sales Have Ended
Registrations are closed
Thank you. See you at SYSTOR 2021 http://www.systor.org/2021/live.html Join us on slack: https://acm-systor.slack.com/
The 14th ACM International Systems and Storage Conference (SYSTOR)
About this event
Conference website: systor.org
Add to Calendar: systor.org/calendar
Keynote Talks by:
Alexandra (Sasha) Fedorova, UBC
Kim Keeton, HP Labs
Shan Lu, University of Chicago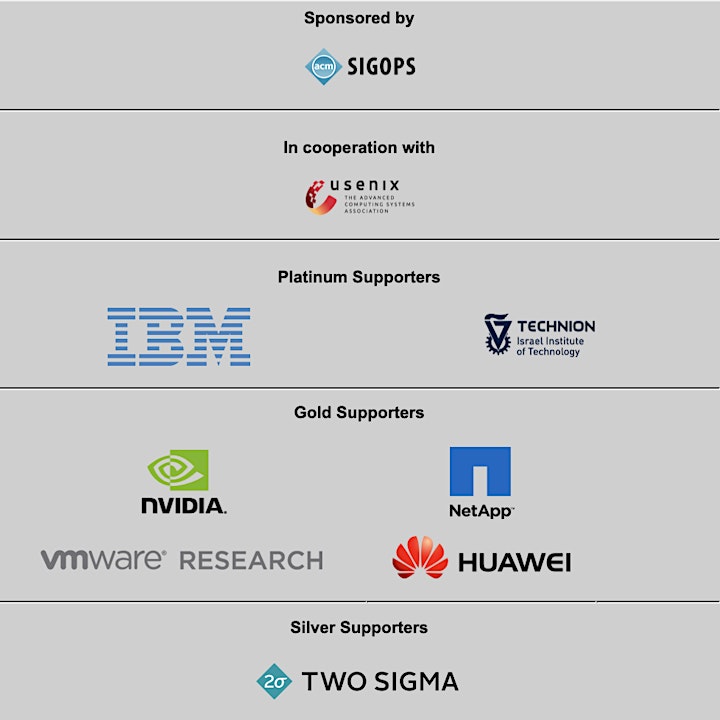 The ACM International Systems and Storage Conference (SYSTOR) is an excellent international forum for interaction across the systems research community. The program includes both innovative, peer-reviewed research papers in the broad area of systems and storage, as well as distinguished keynote lecturers, a poster session, and social events. ACM SYSTOR is designed to appeal to academic and industrial researchers and practitioners, welcoming both students and seasoned professionals.
In participating, I acknowledge ACM's Policy Against Harassment at ACM Activities and agree that behavior such as the following will constitute grounds for actions against me:
Abusive action directed at an individual, such as threats intimidation, or bullying
Racism, homophobia, and other behavior that discriminates against a group or class of people
Sexual harassment of any kind, such as unwelcome sexual advances or words/actions of a sexual nature
If you are involved in or witness any such incident, please inform the event organizers.
In participating, I acknowledge ACM's Privacy Policy.