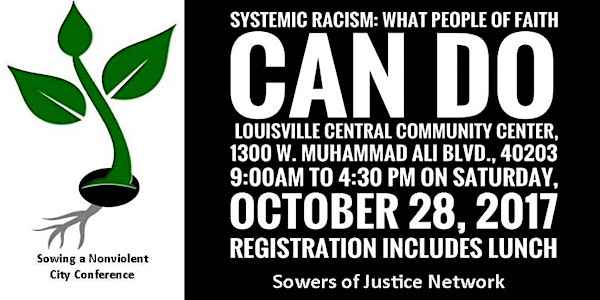 Systemic Racism: What People of Faith Can Do
When and where
Location
Louisville Central Community Center, Inc. 1300 West Muhammad Ali Boulevard Louisville, KY 40203
Description
Sowers of Justice Network 2
nd
Annual
Sowing a Nonviolent City
Conference
"
Systemic Racism: What People of Faith Can Do."
The Sowing a Nonviolent City
Conference calls on Louisville area faith communities to work against systemic racism within their own faith communities, as well as in partnership with people from other faith communities by developing ideas leading to action plans.
We ask you to send three or more individual representatives from your faith community to attend this event. Space is limited to 300 participants, so register early to guarantee your spot. Through panel discussions and open dialogue, older teens (16 and up) and adults from various faith traditions throughout Louisville will gain new understanding on how to address and begin to eliminate systemic racism on the local level.
Registrants will be assigned a group to work with throughout the day. Registration includes lunch.
Registration is $25 per person. Scholarships available for those in need. For more information, please contact Mary Abrams at sojky.events@gmail.com.
Kumar Rashad, JCPS teacher, board member of the Kentucky Education Association and member of the National Education Association, along with other panelists, will lead on how systemic racism in four areas of our society – education, the judiciary, economics, and religion – oppresses some people while benefiting others.
Conference Goals
To learn about systemic racism and its history

To be able to recognize systemic racism in various contexts

To deepen understanding of systemic racism and its impact on people, particularly people of color, through conversation and sharing of stories

To leave with ideas on how faith communities can address systemic racism in our city
In preparation for the conference and to meet others who seek to connect the interior life to racial justice, see our facebook page and website for additional details.