About this Event
WHAT ARE SYSTEMIC CONSTELLATIONS?
什么是系统排列?
Systemic constellations are a way of working with issues within human systems, either family or organizational ones. They allow to reveal and transform patterns that are difficult to understand and change.This workshop is interactive and experiential with opportunities for deep learning and personal growth. There will be a mix of theory, systemic constellations and small group practice.
系统排列是其中一种方式可以运用来处理人际关系(比如:家庭或组织系统)中产生的问题。系统排列可以透露难以理解的事或问题的细节和如何改变现状。本次具有互动性和体验性,具有深度学习和个人成长的机会。课程将会混合理论,系统排列和小组练习。
WHAT OUTCOMES TO EXPECT? 课程收获
Experience systemic constellations, either as an issue presenter, a representative or an observer
Address your issues from a systemic perspective and identify sustainable solutions
Gain insights about how families and organizations work from a systemic perspective
您可以案主,代表者或观察者去体验系统排列
从系统排列的角度来解决您的问题并确定可持续的解决方案
从系统排列的角度深入了解家庭和组织的关系连接
WHO SHOULD ATTEND? 谁该参加?
Anyone who is dealing with an organizational or personal issue that has a systemic aspect
Anyone who is curious about how human systems operate
任何需要处理具有系统性方面的组织或个人问题的人
任何对人类系统如何运作感到好奇的人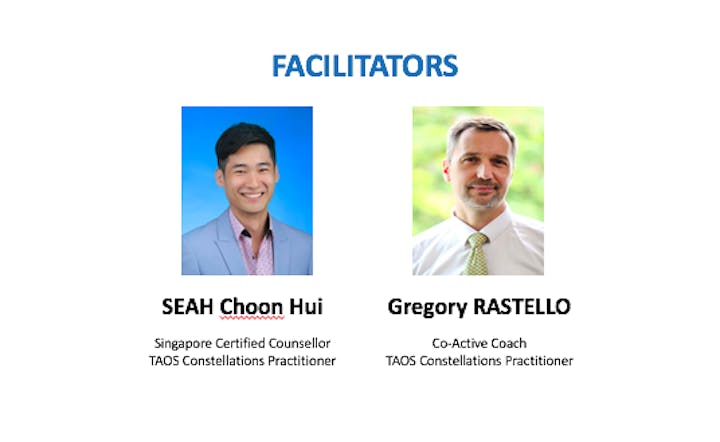 SEAH Choon Hui is an entrepreneur at the age of 22. After going through pains of life (childhood trauma, depression), choon Hui embarked on a personal development journey studying psychology and family constellations. He is now giving back by serving people who are stuck in their personal life.
Gregory RASTELLO is a professional coach & consultant in Change Management, Leadership Development and Talent Assessment. He has been serving SMEs and large corporations to build and transform their organization in alignment with their strategy as well as develop their multicultural leadership teams in Asia and Europe. Born & raised in Europe, Gregory has lived in Asia for more than 20 years.
LANGUAGES Bilingual (English & Mandarin). 语言: 英语和普通话
PRICE The amount you deem fit 价格: 随意
FOR MORE INFORMATION 欲获得更多信息
WhatsApp: +60 17989 1216 /+65 9180 4589
WeChat 微信: suhb8888