Description
Every industry, every sector is being disrupted. How do you successfully, systemically, and sustainably transform your organization and avoid being left behind?
The key lies in a simple yet profound shift in your perspective, process, and mindset - create the systems that will lead to a desired future.
The upcoming Masterclass "Leading Innovation at Scale" will introduce you to a systems philosophy and approach to help you make sense of system complexity and design pathways towards non-linear impact that leverage theories of scale. In the two modules offered at the end of March and start of April:
- "System Acupuncture: Rethinking Innovation and Leadership" (March 28-29) will introduce you to ChangeLabs's powerful end-to-end systems innovation approach.
- "Designing the Scale Advantage" (April 1-2) will give you insights and principles for imparting scale deep in your strategies and organizations.

Module 3 will be offered in October 2019:
- "Mastering Systems Leadership" (October 17-18) brings you into a leadership model that is of critical importance in an era marked by complexity, change, and ambiguity. We will equip you with new leadership frameworks, tools, and mindsets that will give your organization the capacity to reduce critical risks and unlock massive business and impact opportunities.


You will learn:
How to adopt a systems perspective and mindset in your decision making

How to develop strong theories of change that will demonstrate the pathway of change your intervention will take to achieve an outcome

How to carry out a systems approach to deliver innovative, actionable strategies to address your complex challenges

How to involve partners and stakeholders in a collaborative decision making process that creates genuine buy-in
Attending a single module will earn you a certificate of participation for that module issued by Stanford ChangeLabs. Attending all three modules in the Masterclass series will earn you a System Transformation Leadership Certificate.
Seats are limited so make sure to secure a seat!


Module 1: System Acupuncture: Rethinking Innovation and Leadership
March Thu 28 - Fri 29
How do you bring clarity to multi-dimensional challenges and know where to intervene in the system?
Many multi-dimensional challenges are hard to understand because conventional ways of solving problems are not designed to provide a holistic view of the challenge. With a systems perspective, an innovation mindset, and a guiding process, problems that seemed intractable and messy reveal creative and novel pathways towards new system outcomes.
Complexity cannot be wished away just because we want simplicity. Systems approaches involve both understanding complexity of the system, and innovating actionable pathways for system change. System Acupuncture is a strategy and innovation approach that helps to understand the system, identify where to intervene, what to modify, and how to achieve sustained change.


Module 2: Designing the Scale Advantage


April Mon 1 - Tue 2
Why do some businesses, strategies, products, and initiatives, never achieve scale?
In most cases, it is because they were not designed with scale in their DNA. Rather than leaving scale to a downstream phase, our approach creates the pre-conditions for scale, and then bakes in the propensity for scale early in the strategy phase.
Designing the Scale Advantage covers frameworks, principles, and mindsets for designing the scale advantage into your organizations, leadership teams, strategies, and initiatives with ready tools to maximize your organization's ability to make impact and unlock scaled opportunities. This 2-day hands-on module builds on the System Acupuncture methodology, and focuses on topics that help you develop scaling strategies for your initiatives, products, and organization.
Module 3: Mastering Systems Leadership
October Thu 17 - Fri 18
What are the key capacities that a leader needs so that their organization can thrive in the 21st century?
Systems Leadership is a leadership capacity that circumvents the profound limitations of the current leadership models that are simply not suited for the increasing complexity and change of our era. Leaders of the 21st century need to have the confidence and capacity to navigate their organizations and teams through increasingly dynamic, complex, and rapidly changing challenges. Not playing the systems game creates a massive risk on two fronts (a) a risk of being disrupted or made irrelevant, and (b) the risk of not spotting massive opportunities for system change and market creation. Thus, two key capacities that leaders of the 21st century need are:
to respond to rapidly change

to envision a desired future and innovate practical yet transformative pathways towards achieving it.
Mastering Systems Leadership covers key mindsets and tools that an avant-garde leader need to navigate complex systems to arrive at leveraged intervention designs while building an ecosystem that fosters agility and innovation.

Comments about the System Transformation Masterclass from past participants:
"In my 30 years as an institutional leader, I have attended numerous workshops - this is by far the most outstanding and transformative one"
"The most frame-changing and transformative experience - it changes how I am going to consider my work"
"I realize now that what I have been doing and teaching in the past is completely wrong, and might explain why we get the outcomes that we do"
---
The experience
Each System Transformation Masterclass module is an intense interactive two-day workshop that will give you deep insights, theoretical principles, powerful frameworks, and hands-on tools that will immediately set you on a pathway to transform your personal and organizational impact.


Who should attend
This is a course for decision makers, strategists, and change-makers who are on a leadership track, who find themselves in dynamic, multi-dimensional, ambiguous, scaled, and complex challenges. This is for leaders who are willing to reframe the game they have been playing, transcend the "Business As Usual", and build capacity for scaled value creation, resilience, and impact capacity in their teams and organizations.


Prices
We encourage you to take the two modules as a set, but they can be taken as single modules.
Single module price: $3350
Two module bundled price: $5700
Three module bundled price: $9000 (use the 3BUNDLE promo code when purchasing)
Not-for-profit single module price: $2700
Not-for-profit two module bundled price: $4300
Not-for-profit three module bundled price: $6800
(please contact Annette Zou: azou@stanford.edu to access the not-for-profit ticket prices)


Format of the module
Each module is a two-day in-person workshop at Stanford University with a weekend between the two for internalizing the big wave of new insights, networking, hatching new plots, or enjoying the Bay Area. Going by our past experiences, your peers in the Masterclass will be as much of a source of information as the instructors are and you are encouraged to join our growing international Systems Leadership community.


The System Transformation Masterclass Series
The System Transformation Masterclass Series is designed to equip leaders and decision makers with a holistic set of techniques, perspectives, and mindsets to play in the systems arena, when change, uncertainty, and scale are important factors. They are System Acupuncture: Rethinking Innovation and Leadership, Designing the Scale Advantage, and Mastering Systems Leadership. Upon completion of all three Modules of the System Transformation Masterclass Series, you will receive a System Transformation Leadership Certificate issued by Stanford ChangeLabs. System Transformation is a deep and extensive field that takes time and practice to develop expertise. The completion of the Masterclass series marks the start of your journey towards System Transformation mastery.
---
Your Instructor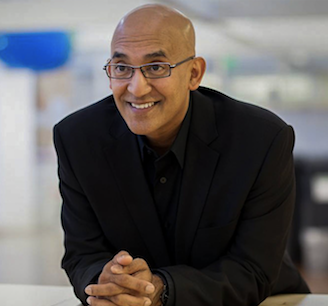 Banny Banerjee - Director of Stanford ChangeLabs
Banny Banerjee is the Director of Stanford ChangeLabs, which advances innovation methodologies for complex, and scaled challenges. He is well known for his pioneering work in design thinking and more recently his advanced systems based innovation methodology and Systems Leadership models for large-scale transformations in multi-dimensional challenges. The trans-disciplinary nature of his work, which combines design thinking, technology strategy, business innovation, applied social psychology, behavioral economics, diffusion theory, and resilience theory, is pioneering the formation of a new type of innovation: "System Acupuncture".
Banny teaches system transformation, business innovation, design thinking, and leadership at Stanford University. His class on "Innovating large scale system transformations" at the d.school has led students to develop scaled initiatives and set them on leadership tracks. He is also a member of the World Economic Forum's Global Future's Council on Systems and Platforms and works with industry leaders in fostering cultures of innovation and Systems Leadership.
---
FAQs
What is the format of the event - can I join in via teleconference?
The modules will be held on Stanford Campus in an interactive workshop style. At this point, we won't be able to provide live remote participation options.
Is there a discounted cost for not-for-profits?
Yes - please email Annette Zou (azou@stanford.edu) to access the not-for-profit price.
Do I need to complete the Modules in a specific sequence to receive the System Transformation Leadership Certificate?
No - you do not need to complete the Modules in a particular sequence.
Is there a dress code?
Business casual
I have dietary requirements - how do I notify you?
Make sure you carefully fill out the dietary requirements section of the registration form.
What are some accommodation options nearby campus?
Please visit the Stanford Lodging Guide for some accommodation options nearby campus: https://visit.stanford.edu/plan/lodging.html