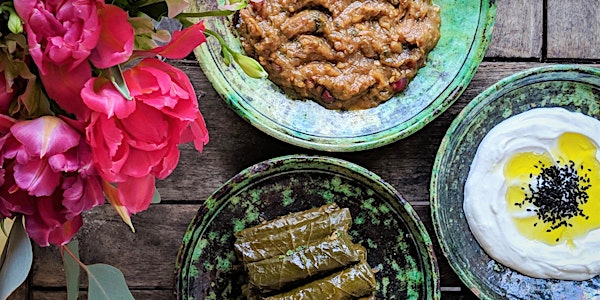 Syrian Iftar Dinner at The Queensboro
When and where
Location
The Queensboro Restaurant 80-02 Northern Boulevard Queens, NY 11372
Description
Tanabel is thrilled to announce our pop-up at The Queensboro restaurant! The fine people at the Queens Dinner Club are bringing us together to host a meal at one of our favorite neighborhood restaurants in one of our favorite neighborhoods. Jackson Heights is home to so much of the delicious diversity of New York, and we're excited to add Fadila's Aleppine food to its mix on Monday, May 20th - right in the middle of Ramadan! Please join us for what promises to be a very special dinner.
$70 per person. Menu, tax & gratuity included. Doors at 6pm, dinner at 7pm. Cash bar.
To welcome:
Sharab al tamarhindi wa ward | A fast-breaking drink of tamarind rose iced tea sweetened with date molasses
To begin:
Zaitoun baiti | House-cured rose olives with za'atar, chili & citrus
Mukhallal lift | Turnip & beet pickles
Moutabal batinjan | Smoky eggplant & tahini dip
Labneh bil limoun | Strained yogurt with preserved lemon, nigella seed & mint
Yalanji | Vegetarian stuffed grape leaves
Kibbeh | Croquettes stuffed with spiced beef & walnuts and served with a red pepper & pomegranate sauce
Mazza served with homemade flatbread and spring things
To continue:
Fakhdeh bi freek wa ful akhdar | Slow-roasted lamb served over smoked green wheat pilaf with fresh fava beans & fried nuts
Salatet rabi'iyeh | Salad of spring greens & herbs with a sumac & pomegranate dressing
To end:
Knafeh | Crispy filo pastry stuffed with sweet cheese & drenched with orange flower syrup
Please note: Menu subject to moderate change, based on what we find at the market!