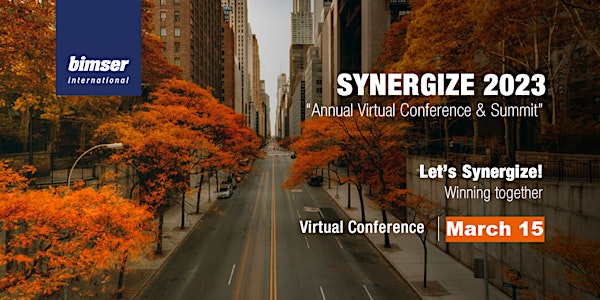 SYNERGIZE - 2023: Virtual Annual Conference for Digital Transformation
SYNERGIZE continuous; It is time to learn about digital transformation and business software products of Bimser International.
About this event
SYNERGIZE - 2023 For Digital Transformation: Annual Virtual Summit & Conference of Bimser International
WHAT IS SYNERGIZE?
SYNERGIZE is Bimser International's annual conference & summit for Bimser International partners, potential partners, customers, prospects and followers. Every year in March, SYNERGIZE takes place virtually to share the latest about Bimser International enterprise business software products in the scope of digital transformation for remote work and continuous improvement in this digital age.
Let's Synergize! Virtual Conference & Summit for Digital Transformation & Remote Work in This Digital Age Amidst COVID-19
It is time to learn about digital transformation, business process automation, remote/paperless work, business & individual performance management and business software product range of Bimser International.
This virtual conference is for Bimser International ecosystem as follows:
1. Official channel partners of Bimser International,
2. Potential channel partners of Bimser International,
3. Friends of Bimser International,
4. Business people from any industry,
5. Professionals,
6. Enthusiasts of digital transformation and technology for business.
At this virtual conference, you will have a chance to learn about Bimser International business software product range for digital transformation and learn from experts about practices and fundamentals of digital transformation for manufacturing, banking, finance, healthcare, medical device, automotive, aerospace & defense, aviation, retail, food & beverage and many other industries.
AGENDA Day 1: March 16th 2022 [Eastern Time Zone]
TBA
AGENDA Day 2: March 17th 2022 [Eastern Time Zone]
TBA
ABOUT: Bimser International
Bimser International is a passionate enterprise software development company based in New York with global presence.
Bimser has been developing enterprise software products since 1998. Bimser is a Certified SAP Vendor, Acumatica ISV, MYOB ISV and a Microsoft Gold Development Partner. In addition; Bimser International is very active in Sage 300, Sage 100, Sage Intacct, Sage X3 , Epicor and Oracle ERP ecosystems. www.bimserint.net is the official website.
As your world-class partner for digital transformation, At Bimser International, we believe in the power of simplicity. Simplicity increases productivity, boosts employee and customer satisfaction, reduces cost and improves bottom-line at any workplace. Moreover Simplicity helps you comply with quality, management and regulatory standards. Our World-Class enterprise software products make this belief come true anywhere in the world.
We have thousands of happy corporate customers and our customer base is growing globally. That is why we have millions of professional users of our state-of-the art software products.
Contact us at bimserint@bimserint.com