Synchronicity and Other Mind Matter Conjectures
Description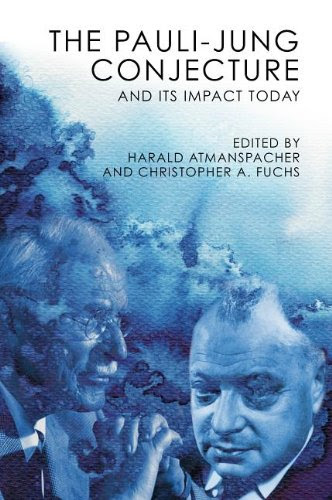 Wednesday, November 5th, 8 pm
Alumni Hall, NYU Langone Medical Center
550 First Avenue between 30th and 32nd St.
New York, New York
This program is free and open to the public. Pre-registration is required.
For more information, consult the JPA website www.nyjung.org or contact Allison Tuzo at JPA@nyjung.org
Harald Atmanspacher, Joseph Cambray, Edgar Choueiri, Farzad Mahootian
Moderator: Beverley Zabriskie
How are mind and matter related? In the mid-20th century, the psychiatrist and analyst Carl Gustav Jung and the Nobel Laureate physicist Wolfgang Pauli formulated the concept of synchronicity. They sought a philosophical answer to this still unsolved question of how the mental and material, the physical and psychological are related in time. Pauli and Jung's thesis suggests two types ofmind-matter correlations for synchronistic experiences in which meaning is crucial andpivotal.
In this second roundtable on The Pauli-Jung Conjecture.", the physicist Harald Atmanspacher and the Jungian Analyst Joseph Cambray will further the April 2014 discussion at the Helix Center (video at www.thehelixcenter.org ). Edgar Choueiri and Farzad Mahootian will argue its central thesis, that the mental and the material are two complementary and intersecting aspects of one underlying reality.
Atmanspacher will outline the speculations emerging from the conjecture's "dual-aspect monism". Using mental health care data, he will describe relevant psychophysical experiences from clinical settings. Cambray will discuss the significance of Atmanspacher's research for a re-visioning of contemporary analysis and psychotherapy.
Mahootian engages complementarity as an organizing principle in physical and social contexts, specifically in research laboratory settings. Choueiri, whose work focuses on space plasma physics and space exploration, will bring to bear questions which arise from applied science: the potential epiphanic role the theory of synchronicity can play, and the possible degeneration into the apophenia dreaded in experimental physics.
------------------------------------------------------------------------------------------------------------------------------
Harald Atmanspacher,a theoretical physicist and a Fellow at the Collegium Helveticum (ETH Zurich), has been approaching the Jung/Pauli dialogue through quantum theory. At Freiburg's Institute for Frontier Areas of Psychology, he has followed 2000 cases from their counseling department. He is studying topics in psychology via mathematical concepts originally used in physics. He is the editor of the journal of the Mind-Matter Research Society, which he founded, and of The Pauli-Jung Conjecture and Its Impact Today (Imprint Academic, Exeter UK, March, 2014).
Joseph Cambrayis a Jungian Analyst, Past President of the International Association for Analytical Psychology (IAAP), former editor of the Journal of Analytical Psychology, and author of numerous articles and several books including Synchronicity: Nature and Psyche in an Interconnected Universe. He has been a faculty member at Harvard Medical School, Center for Psychoanalytic Studies at Massachusetts General Hospital, Psychiatry Department, and is now adjunct faculty at Pacifica Graduate Institute.
Edgar Choueiri is professor of applied physics at the Mechanical and Aerospace Engineering Department of Princeton University, and Associated Faculty at the Department of Astrophysical Sciences, Program in Plasma Physics. He is also Director of Princeton University's Engineering Physics Program and Chief Scientist at the university's Electric Propulsion and Plasma Dynamics Lab for advanced spacecraft propulsion. Choueiri is the president of the Electric Rocket Propulsion Society. He is also Director of Princeton's 3D Audio and Applied Acoustics (3D3A) Lab.
Farzad Mahootian is on the Faculty of Liberal Studies at New York University, and an affiliated scholar with the Consortium for Science Policy and Outcomes at Arizona State University, with a focus on research laboratory ethnographies. Publications include, "Lab as Dynamic System: Refining Midstream Modulation," in Nanoethics (forthcoming); (with Linné, T.), Jung and Laboratory Ethnographies: Lab as Locus of Transformative Research," in Jung in the Academy and Beyond: The Fordham Lectures - 100 Years Later. NY: Spring Journal, Inc. (in press); "Integrating ethicists and social scientists into cutting edge research and technological development," in Early Engagement and New Technologies: Opening up the Laboratory. NY: Springer, 2014.
Beverley Zabriskie, a Jungian Analyst, is a founding faculty member of New York's Jungian Psychoanalytic Association (JPA), associate editor, Journal of Analytical Psychology, board member of The Philemon Foundation which is producing Jung's unpublished works. Her publications include "Time and Tao in Synchronicity" in The Pauli-Jung Conjecture and Its Impact Today (Imprint Academic, Exeter UK, March, 2014); the Preface to Atom and Archetype: The Pauli-Jung Correspondence, (Princeton University Press, 2001); "Synchronicity and the I Ching: Jung, Pauli, and the Chinese Woman" (JAP, 50, 2005.)
This program is free and open to the public. Pre-Registration required.
For information, consult the JPA website, www.nyjung.org, or contact Allison Tuzo at JPA@nyjung.org.