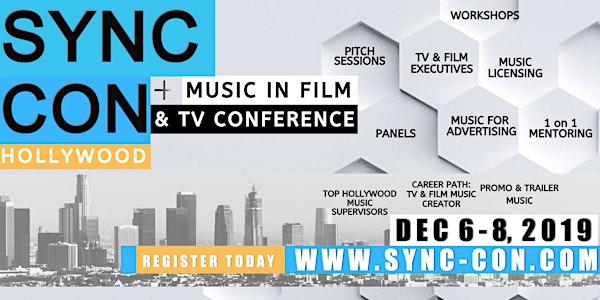 SYNC CON, Hollywood: Music In Film and TV Conference
When and where
Location
Avalon Hollywood & Mears Center Hollywood 1735 Vine St, Los Angeles 1760 N Gower, Los Angeles Los Angeles, California 90028
Description
More speakers announced! Secured your tickets and Ready to meet & pitch your music & network with top music supervisors such as:
Brian J. Miller, Music Supervisor, NFL Network (Keynote Speaker)
Eric Kalver: Music Supervisor at Activision Blizzard (Keynote Speaker)
Carolyn Richardson: Manager, Music Clearance at Fox Corporation (Keynote Speaker)
Chase Butters: Music Supervisor, Deutsch Advertising Agency (Hulu, Target, VW, Nintendo, etc)
Dez Davis: Music Supervisor, Deutsch Advertising Agency (Dr Pepper, 7 up, Taco Bell, etc)
Jason Feldman: Assistant Music Supervisor, Hit The Ground Running (The Last Dance on ESPN, Silicon Valley on HBO, Rapture on Netflix, and more)
Angela Jollivette: Music Supervisor/Grammy Nominated, Greenleaf. Sunday's Best
Sarah Ponder: Music Director, APM Music
David Leon: Music Supervisor, Disney ABC Television Group
John Downey: Emmy Nominated, Clearance Supervisor (ABC, Netflix)
Jessica Gramuglia, Music Supervisor. Conde Nast' Entertainment
John Downey, Clearance Supervisor (ABC, Bravo, The CW)
Nicole Prutch: Music Supervisor - TV Promo (USA, ABC, Amazon)
Morenike Joela: Director/Creative Executive Producer, Family Reunion (Netflix)
Jennifer Smith: Music Supervisor, Rat Dance Party
Jason Cienkus: Music Supervisor
Andrea Bellucci: Music Producer, Sound Designer, Orchestrator(Hyde Park, Lionsgate)
and many more?

3 days of Networking + Interactive + Learning
SYNC CON is the place to be. This is taking place in the world's capital of film & tv, HOLLYWOOD, bringing all the TOP Music Supervisors to your favorite tv shows, film, commercials, and video games.
SYNC CON is dedicated to training music producers, songwriters, music creators, script writers, and aspiring music supervisors on music licensing and how to build a successful career in this space. Attendees are in a relaxed, non – judgmental environment, where they are free to learn and ask questions, while trained by a music licensing veterans and top music supervisors. Attendees have the opportunity to be trained properly, heard, ask questions, get detailed answers, and gain thorough knowledge.
What happened at Sync Con Atlanta in April 2019? http://www.sync-con.com/atlanta-2019/
The 3 day packed event includes:
HANDS ON WORKSHOPS, PANELS, BREAKOUT SESSIONS, 1 ON 1 PITCHING SESSIONS, GROUP PITCHING SESSIONS, MENTORING SESSIONS.

FACE TO FACE NETWORKING WITH HOLLYWOOD GIANTS IN FILM & TV MUSIC!

SYNC BREAKDOWN: HOW TO LICENSING YOUR MUSIC IN TV, FILM, ADS,VIDEO GAMES

DEEP DIVE: TELEVISION & FILM MUSIC BREAKDOWN

LEGAL & MUSIC

SEGMENT: MUSIC IN ADVERTISING, PROMOS, AND TRAILERS

WORKSHOP: COMPOSING & MUSIC PRODUCTION FOR TV/FILM/VIDEO GAMES

WORKSHOP: BECOMING A MUSIC SUPERVISOR FOR TV/FILM/ADS

WORKSHOP: BECOMING A SCRIPT WRITER FOR FILM/TV

WORKSHOP: BECOMING A PRODUCER/DIRECTOR FOR TV/FILM

HEALTH & MUSIC: PHYSICAL AND MENTAL AWARENESS

FINANCIAL MANAGEMENT FOR MUSIC CREATORS

SIP, WINE & DINE NETWORKING

PRODUCERS vs. SONGWRITERS CONTEST

GOT GAME TOURNAMENT

LIVE PERFORMANCES & MORE!
More music supervisors & speakers to be announced in November 2019!

SCHEDULE & AGENDA
Dec 6 (Day 1): Sync Con Party & Mixer
6-8:30pm | W Hollywood Rooftop (Powered by Audiomack)
Dec 7 (Day 2): World of Sync (Panels + Interactive + Workshops + Mentoring)
9-5pm | Mears Center, Hollywood
Dec 8 (Day 3): World of Sync (Panels + Interactive + Performances + Honors Ceremony)
9:30-2pm | Avalon, Hollywood
Visit (http://www.sync-con.com/schedulespeakers/) for detailed agenda.
Past speakers & music supervisors include:
Janet Wade: Music Licensing & Clearance for Turner (TNT, TNT Sports, TBS)
Ade Ariyo: Music Supervisor & Music Licensing (NBA TV, MTV, BET, etc). Licensing music in over 53 countries (shows such as Power, Empire, Better Call Saul, Black Ink, and many more).
Romar Bennett: Music Supervisor works include Power, Madea's Family Reunion. Grammy Nominated Engineer for Kanye West's Cruel Summer.
Jamar Chess: Sunflower Entertainment, Licensing & Placements include: Narcos (Netflix), Spiderman, The Marvelous Mrs. Maisel, Citibank Commercial.
Steven Julien: Casting Producer for Love and Hip Hop. Casting Consultant for The Four (on Fox).
Robert Chandler: Music Supervisor/Composer at Epic Music Supervision. Works include: Blackish, The Millers, Storage Hunters, Ads & Commercials.
Morgan Hutcheson: Music Supervisor for Advertising & Film (Eight Grade, Ameriprise, Ladders and more.
Advertising agencies, Music Licensing Companies, Music Supervisors, Entertainment Attorneys, Health for Musicians, and many more to be announced.
and more!
Ready to network in person and learn how to license your music to their projects and more?
Is creating music for Hollywood films, TV shows/Programming, Commercials, Video Games, a career you dream off? Do you have all these music sitting on your hard drive? Heard a similar song to yours on a tv show and wonder how it all works? Are you an aspiring Music Supervisor? How do you turn a script into a film/tv project? Sync Con is for you? See you at Sync Con.
TICKET INFORMATION
Once you purchase, you will receive an order confirmation email from Eventbrite on behalf of the Sync Con and an email directly from Sync Con.

IMPORTANT: If you do not see your eventbrite order confirmation in your inbox, make sure to check your junk/spam folder. If you still do not see your order confirmation, click here to access the Eventbrite help center.
Have questions about Sync Con, Hollywood? Contact Sync Con here
A ticket purchase is required to gain entrance to Sync Con. No exception.
All ticket sales are final. No refunds or exchanges. Sync Con is a rain or shine event. For more information, questions, and terms/conditons, please visit FAQ