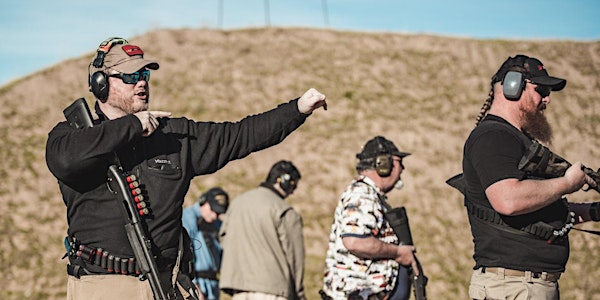 Symtac Consulting's Gauge Clinic with Matt Haught - Prescott, AZ
This is our introductory one-day shotgun course, suitable for both new shotgunners and students looking to fine-tune their technique
Date and time
Saturday, April 29 · 8:30am - 5pm MST
Location
Prescott National Forest 15450 N Williamson Valley Rd Prescott, AZ 86305
About this event
This course is designed to take the new shotgunner through the basics of operating the defensive shotgun. The morning session will start off with safety, basic manipulations and function, then move on to our Push/Pull method of recoil control. Using this unique method of recoil management, the student will be able to reduce felt recoil by nearly 50% and be able to fire follow-up shots with a 12 gauge pump shotgun as fast as most shooters can accurately fire their pistols.
Lunch will include a lecture on accessories and configurations
Afternoon will focus on reloading the gun from various types of ammunition carriers, as well as contextual information on the benefits and downsides of each.
Instructor: Matt Haught
Dates: Sat, Apr 29, 2023, 8:30am-5:00pm
Location: Prescott National Forest, Prescott, AZ (detailed map/directions will be sent prior to class date)
Tuition: $200.00 
Equipment requirements: 
• Reliable tube-fed duty-type shotgun (box-magazine or break-action guns are also acceptable, but the class will focus on tube magazines)
• Ammo carriage gear (Dump pouch, belt carriers, chest rig, etc, to allow you to bring at least 25 rounds to the line at a time)
• Eye and ear protection
• Shooting gloves (barrels get HOT)
• Clothing suitable for range work (boots are recommended over sneakers at this range)
• Snacks and water
• Sunblock
• Weapons lubricant and cleaning supplies
• 200 rds. birdshot (lead only, no steel shot)
• 20 rds. buckshot (lead only, no steel shot)
We also highly recommend having an individual trauma first aid kit and the training to use it!
About the organizer
SYMTAC is a training organization that has provided innovative and proven firearms training to military, law enforcement, and civilian students for more than 20 years. We specialize in use of the combative shotgun and are best known for that, but we also offer a varied array of courses in defensive handgun, carbine, low-light, and more based on instructor and facility availability. 
At SYMTAC we train you to take complex tasks and make them simple.