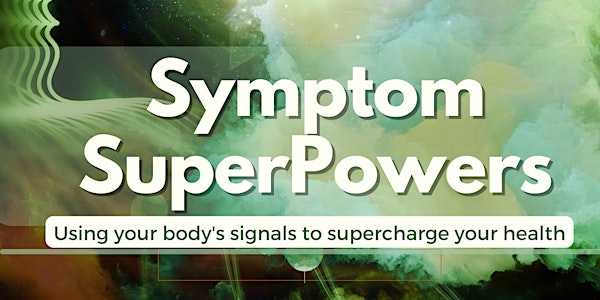 SYMPTOM SUPERPOWERS: Using Your Body's Signals to Supercharge Your Health
Let's get excited, energized and flip our symptom superpowers by using our body's signals to supercharge our health.
About this event
$27 (50% off for Collective Members of Happy Healthy Women. Learn more about becoming a member here: https://hhwglobal.com/pages/stephanieswellpreneurlink
How do you know you're a 40+ woman stuck in a stranger's body?
Do you feel tired no matter how much sleep you get or…
How about feeling hungry after eating a full meal?
Maybe sleeping through the night feels like a dream
And then you're faced with brain fog, scattered thoughts and restlessness all day long
And the worst, is when you can't lose weight or quickly gain back what you do lose
Am I right?
Do you struggle with at least one of these?
Then you're stuck in a stranger's body and in the 40+ woman's vortex
It's time to feel comfortable in your own skin again, Join us inside the Symptom SuperPower Workshop where we will
Demystify your 40+ symptoms
Get the root cause of why you feel the way you feel
The quickest way to stop the self sabotage
Flip your biggest symptom into your superpower
It's been hard hasn't it? And I get it. I used to struggle with all of these symptoms too but after working on myself and countless 1:1 clients, group mentorship programs, resets and even inside the Calm Cool Collective membership, I've seen one thing ring true. Once a woman believes in her power and becomes aware of the magic behind her symptoms, she quickly steps out of the 40+ vortex. She's left excited, energized and flips her symptom superpowers by using her body's signals to supercharge her health.
If any of this hits home with you, please join me in my workshop: The Symptom Superpower
In it you'll learn:
What your body is really telling you
Why it's talking to you all day long
What you can do today to turn it around
Looking forward to seeing you there!
About the Facilitator:
Stephanie Huntjens White is a registered holistic nutrition coach and wellness stylist, who helps women 40+ flip their symptoms in a beautiful holistic way. Stephanie is the creator of the B.E.A.R effect which teaches, empowers and ignites the potential in other women.
Learn more about Stephanie:
Website: www.stephaniehw.com
Facebook Group: https://www.facebook.com/groups/energizedyou
Instagram: https://www.instagram.com/stephaniehw.coaching/
Facebook: https://www.facebook.com/stephaniehw.coaching/
LinkTree: https://linktr.ee/icancookco