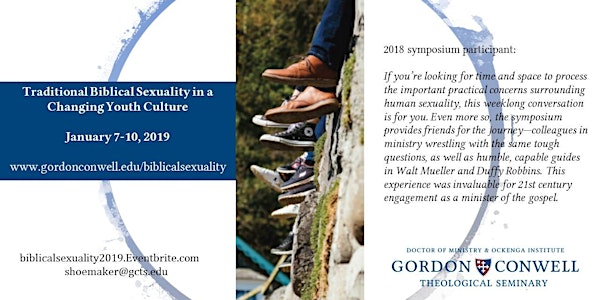 Symposium: Traditional Biblical Sexuality in a Changing Youth Culture 2019
When and where
Location
Gordon-Conwell Theological Seminary 130 Essex Street Hamilton, MA 01982
Refund Policy
Refunds up to 30 days before event
Description
As debates about human sexuality dominate classrooms, coffee shops, and social media, youth ministers committed to a traditional Biblical ethic may struggle to find their voice. Some may wonder if there is a safe space in which to form a theologically informed and nuanced approach to these charged and complex issues. Join Dr. Walt Mueller of the Center for Parent Youth Understanding and Dr. Duffy Robbins of Grove City College for an intensive multi-day symposium to deepen your own Biblical and theological foundations, to broaden your apologetic for affirming the goodness of expressing sexual intimacy within the bonds of marriage between a man and a woman, and to strengthen your pastoral skills in helping youth live out these truths.

This Symposium presumes participants' affirmation of a historic, orthodox Christian sexual ethic and will be building from this premise, not debating it. Participation is limited to 25 to allow for deep exploration of these issues and will require some preparatory work and active involvement in the Symposium.
Limited to 25 participants. Fee: $625 (registration by November 30) $695 (after November 30) Fee includes Symposium, Instruction, Materials, Snacks, and Lunches. Fee does not include travel, overnight lodging, and additional meals. (see FAQ's for lodging suggestions)
The Symposium will take place in the Academic Center Room 354.
Pre Symposium Preparation
Read one or both of the following texts. . . preferably both. . .
God and the Transgender Debate – Andrew Walker
Love Into Light – Peter Hubbard
Read Chapter 1 ("Ethical Theories and Sex") and Chapter 7 ("The Challenge of Homosexuality") in The Meaning of Sex by Dennis Hollinger.

Draft Schedule
Monday, 1/7
11:00-12:00 Session #1
12: 00 Lunch
1:45-2:45 Session #2
3:00-4 :30 Session #3
Tuesday, 1/8
9:00-12:00 Session #4
Interview with TBD
12:00 Lunch
1:15-4:45 Session #5
Wednesday, 1/9
9:00-12:00 Session #6
Interview with TBD
12:00 Lunch
1:15-4:45 Session #7
Interview with TBD
Thursday, 1/10
9:00-12:00 Session #8
12:00 Lunch and Dismiss
Contact the Shoemaker Center for Church Renewal for more information at Shoemaker@gordonconwell.edu.
FAQs
Housing
We will reserve a room block at TownPlace Suites in Danvers, MA at a rate of $89/night. Use this link to book your room. Book your group rate for Gordon Conwell youth Ministry Symposium
Other options:
Courtyard Marriott Danvers, 978-777-8630, www.marriott.com
DoubleTree Hilton, 978-777-2500, www.doubletree3.hilton.com
Parking
Parking is available in the lot next to the Academic Building. Follow the signs as you enter campus.
Photography and Audio Recording:
Most of our events are recorded (with speakers permission) and photographs may be taken for publicity purposes and promotion on social media. For more information regarding this or to request that your image not be used for this purpose, please contact the Shoemaker Center at shoemaker@gordonconwell.edu.