An online gathering for advanced study of and discussion about the spirituality of children.
About this event
This event is brought to you by the department of Lifelong Learning at Virginia Theological Seminary
This online Symposium will focus on the latest research in the field of Children's Spirituality. Our schedule will include a keynote address by Jerome Berryman (founder of Godly Play), a panel responding to Dr. Berryman including Sarah Bentley Allred ('19), Ebony Grisom, Matthew Kozlowski ('11), and Lakisha Lockhart, in addition to paper presentations from scholars and practitioners, and guided reflection time. Participants will receive recordings of the sessions after our team has edited the videos. We plan to publish the papers presented in a volume through VTS Press. Presenters include Laura Alary, Tanya Marie Eustace Campen, Amy Chapman, Dave Csinos, Alfred Kah Meng Pang, Anthony (Tony) Peterson, Catherine Maresca, Karen-Marie Yust and Henry Zonio.
To find out more about all of our presenters and panelists, click here! Registrants will receive an email the week of the event with Zoom links.
We strive to welcome all. If cost impedes your participation, please email LifelongLearning@vts.edu about financial assistance.
Schedule *Eastern Standard Time (GMT-5:00 or UTC-5:00)
*Subject to minor changes
Day 1 - October 21, 2021
1:00-1:20 PM Opening welcome with Lisa Kimball, orientation, and worship (brief centering meditation)
1:20 –2:15 PM Keynote with Jerome Berryman: "Becoming Real: A Theology of Childhood."
2:30-3:15 PM Individual or Structured Group reflection time - Randomly assigned small groups with facilitators for discussion
3:30-4:30 PM Paper Presentations and Discussion - Choose from 5 scholarly presentations (scroll down for topics) - Laura Alary, Tanya Marie Eustace Campen, Amy Chapman, Dave Csinos, Tony Peterson
Day 2 - October 22, 2021
1:00-2:15 PM Keynote: Welcome and prayer; Panel facilitated by Liz DeGaynor. Panelists include Sarah Bentley Allred, Ebony Grisom, Matthew Kozlowski, and Lakisha Lockhart
2:30-3:15 PM Individual or Structured Group reflection time - Randomly assigned small groups with facilitators for discussion
3:30-4:30 PM Paper Presentations and Discussion - Choose from 4 scholarly presentations (scroll down for topics) - Catherine Maresca, Alfred Kah Meng Pang, Karen-Marie Yust, Henry Zonio
4:45-5:15 PM Closing remarks and sending forth - Lisa Kimball, Liz DeGaynor, and Jerome Berryman reflect on this seminar and hopes for the future of the field generally and more specifically in theological education and at Virginia Theological Seminary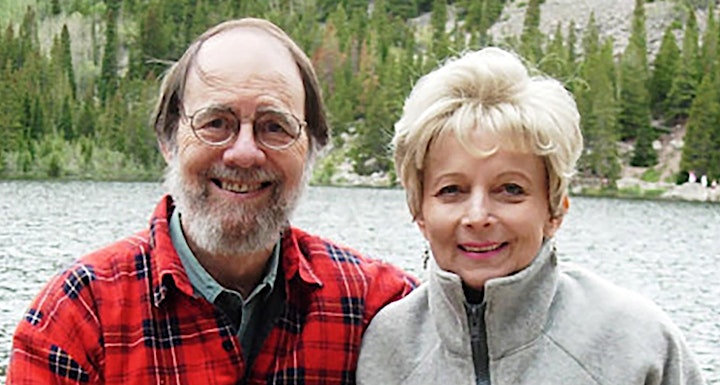 The Rev. Dr. Jerome Berryman will provide the keynote on Becoming Real: A Theology of Childhood. Dr. Berryman is a renowned scholar and practitioner in the spirituality of children and the founder of Godly Play. He is an Episcopal priest and has been an active consultant for decades in the areas of religious education, child development, the spiritual guidance of children, organizational and family systems, medical ethics, counseling children and young people with suicidal tendencies, the pastoral care of children in hospitals, values curriculum, and other such matters. For more information and a fuller bio, click here.
Thursday Paper Presentation Topics
Laura Alary -  What Is This Story Doing to Me? Biblical Storytelling for a Global Generation - Are bible stories good for children? Confronted by this question, Laura Alary reflects on her experience of writing Read, Wonder, Listen: Stories from the Bible for Young Readers (Wood Lake Books). Looking back to the history of interpretation, and ahead to the kind of world we long for and envision she describes her search for a model and method of biblical storytelling that is both life-giving and spacious enough to include everyone. 
Tanya Marie Eustace Campen - Holy Work with Families: Dancing Together - Children are theologians, making meaning out of their everyday experiences. As they do this holy work, they join God and others in the divine dance that transforms creation. As partners in this holy dance children, their families, and faith formation leaders have an incredible opportunity to discover and respond to God in every moment and every day. The realities of the COVID-19 pandemic continue to highlight the deep need for faith formation leaders to journey alongside families as individuals of all ages participate in this holy work together. This paper builds on the theology, theory, and research presented in Holy Work with Children, and considers how families can participate in the holy dance together making meaning and responding to God's grace and love. Holy Work with Families highlights the need for a new approach to ministry with children and families and offer practical insight as faith formation leaders seek to connect, equip, and support families in the holy work of living out their faith, together.
Amy Chapman - Nurturing Children's Innate Spirituality Through K-12 Education - Based upon 25 years of scientific research, we know that spirituality is a foundational capacity for awareness. Because spirituality is an innate capacity, it cannot be taught; rather, it must be supported and cultivated through lived experiences and meaningful relationships. K-12 schools provide an ideal space for such nurturing, as schools are where our ecology of self is formed, where we come to know who we are, and where we form meaningful relationships with others. This paper presents findings from a multi-year study of twenty spiritually supportive schools across the United States to understand how they foster spiritual growth in their students. Our findings show that schools support students' spirituality through the school's culture: the ethos of the school communicates spiritual values, leads students in transcendent spiritual practices, and cultivates students' sense of meaning and purpose, responsibility for others, and concern for the natural world.
Dave Csinos - All, Some, None: A Multilayered Interpretation of Children's Theological Meaning-Making - What does the theological meaning-making of children look like? This paper answers this question through an interpretation of the theological ideas of children within four culturally-distinct congregations within the United Church of Canada. Drawing from his most recent book, Little Theologians, Dr Dave Csinos take a cue from practical theologian Emmanuel Lartey's "Trinitarian" view of personhood to examine how the content, sources, and methods of children's theologies are like all others (the universal sphere), like some others (the cultural sphere), and like no other (the individual sphere). This presentation makes a distinct contribution to the field of children's spirituality not only through the generation of new insights, but also through the employment of a multifocal interpretative lens.
Tony Peterson - Listening with Children: A Spirituality of Race - In a racialized society, children need guidance understanding race, but many adults do not have the tools to provide that guidance. Recent and more distant history have demonstrated the great need for that guidance. This paper explores theological, sociological, educational and personal implications of race ignorance. Employing literature, research and narrative, the study points toward effective approaches born out of dialogue and listening. The presentation will include moments of interaction for participants.
To find out more about all of our presenters and panelists, click here!
Friday Paper Presentation Topics
Catherine Maresca - Children, Signs, and Spiritual Literacy: An Interfaith Experience - Sacred Signs are part of every faith tradition, facilitating the human encounter with the Holy. These signs are of great help to children as they begin to seek the Holy within the tradition of their culture or family. Learning to enjoy and read these signs develops a kind of "spiritual literacy", preparing them for a life of prayer and reflection. By age nine and up, this literacy can also help older children to grasp the signs of other traditions, building both love and respect for persons of other faiths.
Alfred Kah Meng Pang - Prophetic Wonder with Children in the Call to Teach: A Lasallian Inspiration - The spiritual agency of children in shaping the faith of adults who care for them is a key theme in children's spirituality. In this presentation, I consider how the Lasallian tradition of Christian education makes a space for children as spiritual agents in its articulation of teaching as a mystical-prophetic call committed to a preferential option for children. The Lasallian tradition originates from John Baptist de La Salle (1651-1719), founder of a Catholic religious teaching order known as the Institute of the Brothers of the Christian Schools, as well as the patron saint for Christian teachers of the young. I develop its emphasis on the Christian teacher as a co-contemplative with children engaged in prophetic wonder. Such wonder is not simply an awe of children as God's beloved. It is also a practice of wondering with children experienced as graced irruption in the mystery of life. Prophetic wonder attunes educators to become ethically present to the social marginalization of children and attend to their human flourishing. The presentation will also invite participants to imagine possibilities for prophetic wonder with children in their various ministerial settings.
Karen-Marie Yust - Let the Little Children Theologize: Moral Development, Critical Thinking and Preschool Faith - The work of Yale's Paul Bloom and Harvard's Paul Harris challenges us to rethink our ideas about young children's readiness to engage in theological reflection. Bloom demonstrates that young children have moral preferences long before conventional wisdom suggests that moral identity is possible. Harris observes that even very young children find ways to negotiate between empiricism and imagination, thinking and making judgments about the world by drawing on ideas they have developed through self-initiative and the testimony of others in their social communities. This paper will explore Bloom's and Harris's research to determine how their unconventional insights into children's moral development and critical thinking might reshape our approaches to child theologizing. It will consider the role of narratives and how communal and familial practices of storytelling and testimony can reinforce early moral sensibilities and cultivate preschool children's ability to reflection theologically.
Henry Zonio - Made in His Image: Constructing Gender in Children's Sunday School - Despite children's interactions with religious institutions and the overwhelming amount of evidence on sexism in U.S. Protestantism, there is scant literature on the role of religious instruction on children's gender socialization. Using critical gender theoretical frameworks, this paper examines how patriarchal spirituality influences children's gender socialization in the Sunday school classroom by way of material and symbolic culture embedded in children's religious curricula. I argue that material and symbolic culture from religious educational curricula provide young children with cultural resources they incorporate in their collaborative constructions of peer culture. I also argue that these cultural resources serve as structural constraints that limit the extent to which gender is addressed in the Sunday school classroom. To explore this process, I conducted a 15-month ethnographic study of young children at three ethnically homogenous Protestant churches: predominantly white, predominantly Hispanic, and predominantly African American. I utilized multiple qualitative methods, which included content analysis of Sunday school curricula, focus group interviews of children at the research site churches, and participant observation at those same churches. My findings indicated that all the churches in the study depended on published curriculum to drive the limits of the content taught in the Sunday school classes. Further, I found that the published curriculum had a null curriculum regarding gender. This led to an uncritical inclusion of curriculum that reproduced an implicit patriarchal Christian spirituality at all three churches. In turn, children syncretized religion with hegemonic views of gender to varying degrees depending on denominational views on women in leadership as well as each church's predominant ethnic make-up.
To find out more about all of our presenters and panelists, click here!
Organizer of Symposium on the Spirituality of Children
Led by the Holy Spirit, Virginia Theological Seminary forms and educates leaders who proclaim the Gospel of Jesus Christ and helps others participate in God's mission throughout the world. We are a racially and culturally diverse residential community of The Episcopal Church, devoted to worship & prayer; teaching & learning; and research & service to the wider church.