Description
This event will provide a forum for discussion on how we achieve economic benefits through reduced emissions.
Title: Symposium on Economic Growth Through Emissions Reductions
Date: Wednesday, September 20, 2017
Location: USU Ballroom @ CSU San Marcos
Time: 7:00am-11:30am (7:00am check-in/networking and continental breakfast; 7:30am program begins)
Complimentary parking will be provided for attendees.

---
PROGRAM:
Welcome Remarks:
Mayor Jim Desmond, City of San Marcos
Dr. Patricia Prado-Olmos, Vice President of Community Engagement, CSU San Marcos
Keynote Speaker: Major General Anthony Jackson, USMC, (Ret.)
Panel Discussion 1 - "How do we get there?
Moderator: Shelly Murphy, Director of Programs, Center for Sustainable Energy (CSE)
Confirmed Panelists:
Michael Clemson, Energy Manager, CSU
Jennifer Ferreira,

Environmental Director, OPTEC

Peder Norby, Transportation & Sustainability Consultant
Desmond Wheatley, President & CEO, Envision Solar International, Inc.
Panel Discussion 2 - "How do we benefit?"
Moderator: Dr. Todd Elvins, State Coordinator & Lead of National Speakers' Bureau, Citizens' Climate Lobby
Confirmed Panelists:
Jason Anderson, CEO, Cleantech San Diego
Kevin Weinberg, Commercial Solar Sales Manager, Baker Electric Solar
George Weir, President & CEO, Weir Asphalt
Closing Remarks:
Mike Cully, CEO, San Diego North Economic Development Council
Francisco Urtasun, Regional Vice President of External Affairs, Sempra Services Corp.
---
EVENT SUPPORTED BY: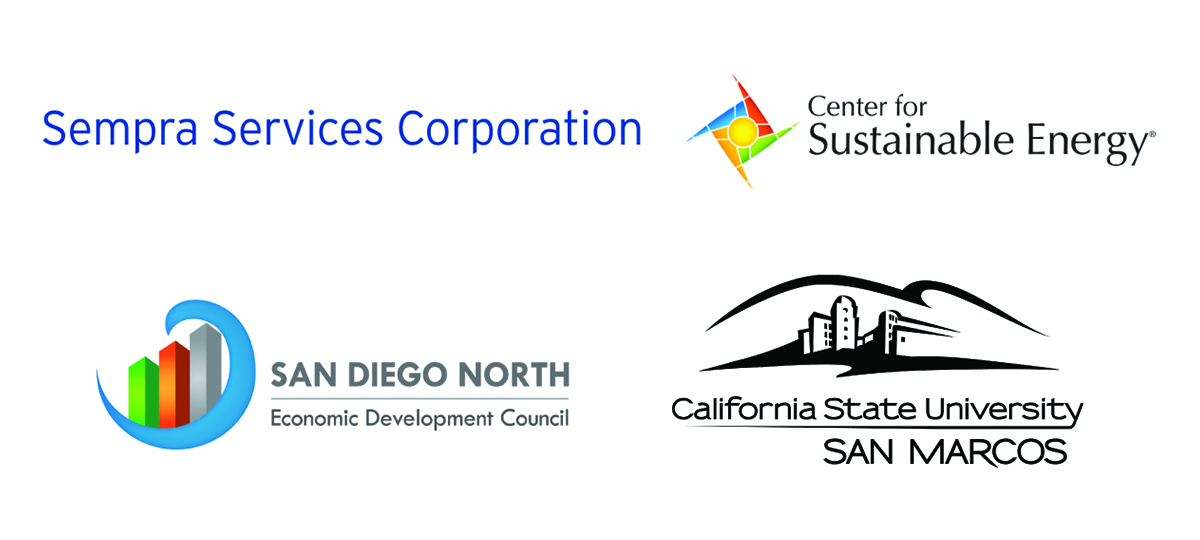 ---
Photo Credit: Andrew Reed
Photo Description:
The CSUSM University Student Union (USU) is LEED Gold certified, based on LEED Green Building Design and Construction 2009 New Construction edition. LEED, which stands for Leadership in Energy and Environmental Design, is a rating system that evaluates environmental performance to provide a definitive standard of a "green building". All new CSUSM buildings are built to at least LEED Silver standards. By designing and building to LEED standards, the USU and all of our LEED buildings have a number of sustainability benefits, including reduced construction waste, increased recycled content, lower long-term operating costs, efficient water and energy systems, and improved indoor air quality, to name a few. The other CSUSM LEED buildings are: Parking and Commuter Services (LEED Gold), Student Health and Counseling Services (LEED Gold), Social and Behavioral Sciences Building (LEED Silver) and the Sports Center will be LEED certified.
Date and Time
Location
California State University San Marcos
333 S. Twin Oaks Valley Road
San Marcos, CA 92096