Symposium on Countering Violent Extremism

Saturday, December 6, 2014 from 9:00 AM to 5:00 PM (Malaysia Time Malaysia (Kuala Lumpur) Time)
Event Details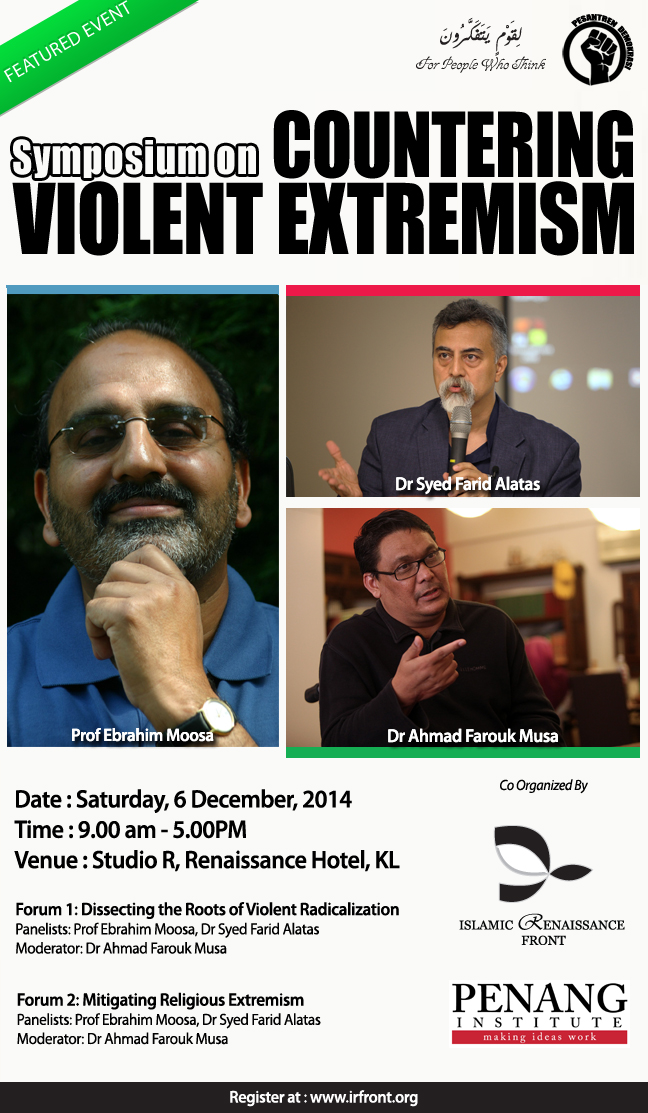 Islamism is thought to be a product of the failure of authoritarian nationalist governments and the socio-economic imbalance that has been exacerbated by neo-liberal globalization. Many Islamists see the evil forces supplanting true Muslim religious and cultural values via military and cultural invasions. In addition to the military and cultural invasions, the harsh treatment of the ulama and activists at the hands of the regimes has been another factor in the production of extreme ideas and writings.
While many analysts view this phenomenon as a new trend in Islamism, which is basically a reaction to modernism; a careful analyses of the traditional Islamist texts would probably view this movement as a new wave in an old continuum. Thus contemporary Islamic fundamentalism is perhaps not a new phenomenon but one that has deep roots in the writings of traditional Islamists and in the experiences that both traditionalists and Muslim communities have encountered throughout history.
It is clear that fundamentalism leads to the reductionist view in understanding Islam due to the rigid and literal interpretation of the texts. And the fundamentalists have displayed a terrifying face of Islam mainly by exerting an aggressive agenda for the politicization of religion to achieve certain objectives. Religious symbols have been used to pursue political agenda. Therefore it is imperative to distinguish Islam as a belief and cultural system and Islam as a tool to exert political legitimacy and hegemony.
This symposium will try to bring about the debate on the roots of fundamentalism and the factors that contributed to the spread of fundamentalist ideas. It will also discuss on the remedy to stop the spread of fundamentalist doctrine and the efforts that could be done to mitigate religious extremism.
Programs
0900-0930:  Registration
0930-0940:  Welcoming speech by the Chairperson, Dr Julia Sveshnikova
0940-1000:  Opening speech by YB Zairil Khir johari, CEO of Penang Institute
1000-1200:  Seminar on "Dissecting the Roots of Violent Radicalization"
                  Panelists: Prof Ebrahim Moosa, Dr Syed Farid Alatas
                  Moderator: Dr Ahmad Farouk Musa
1200-1300:  Workshop
1300-1430:  Lunch
1430-1630:  Seminar on "Mitigating Religious Extremism"
                  Panelists: Prof Ebrahim Moosa, Dr Syed Farid Alatas
                  Moderator: Dr Ahmad Farouk Musa
1630-1700:  Resolution
1700:          Tea
Organized by:
Islamic Renaissance Front and Penang Institute.
When & Where

Renaissance Kuala Lumpur Hotel

Kuala Lumpur, 50450
Malaysia

Saturday, December 6, 2014 from 9:00 AM to 5:00 PM (Malaysia Time Malaysia (Kuala Lumpur) Time)
Add to my calendar
Organizer
IRF echoes the voice of reason and compassion, and is committed to liberating the Muslim mind from rigid orthodoxy and conservatism. IRF is also dedicated to the revival and reform of Islamic thought and appreciation in order to enable the Ummah to confront their present challenges more meaningfully towards the progress and happiness of all.