Event Information
Location
Adam Clayton Powell, Jr. State Office Building
163 W 125th St.
2nd Floor Art Gallery
New York, NY 10027
United States
Description
This symposium will bring together community based organization, hospital representatives, expert researchers, and local residents to understand current policy structures and mandates guiding the Hospital Community Benefit Program required by the Internal Revenue Service (IRS) and reinforced under the Patient Affordable Care Act of 2010 (ACA). Participants will learn about current benefits offered by local hospitals and their methods of prioritization. There will also be discussion about the program's utility and an opportunity to collaborate on ways to enhance community engagement and investment.
Join us in developing recommendations for community benefits and the next round of community health needs assessments.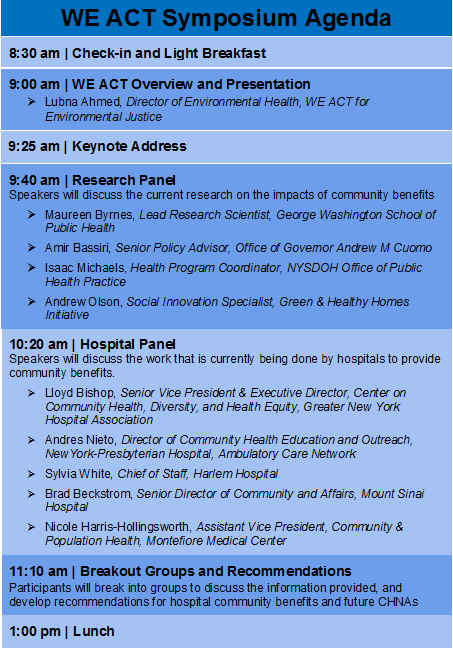 Special thanks to CPHS, African Services Committee, Columbia University Mailman School of Public Health, Columbia Center for Children's Environmental Health, Arthur Ashe Institute for Urban Health, and The NIEHS Center for Environmental Health in Northern Manhattan for their ongoing support. This event is brought to you in partnership by:

Date and Time
Location
Adam Clayton Powell, Jr. State Office Building
163 W 125th St.
2nd Floor Art Gallery
New York, NY 10027
United States