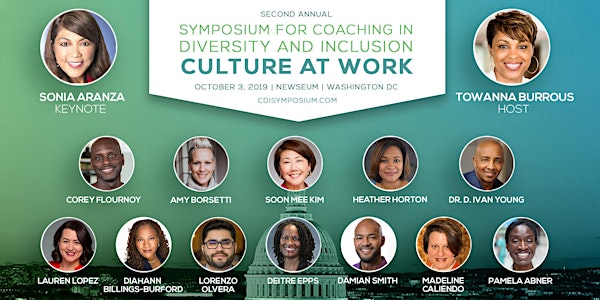 Symposium for Coaching in Diversity and Inclusion: Culture at Work
When and where
Location
Newseum 555 Pennsylvania Ave NW Washington, DC 20001
Description
CULTURE AT WORK
Through CoachDiversity Institute's 2nd annual symposium, "Culture at Work," we are hosting a premier industry event that will explore the power of company culture and its impact for better or worse on organizational mission, results, and talent management.
Never before has there been an event that holds a spotlight on the use of coaching as a resource to shift workplace culture to meet the demands of rapid demographic shifts, technological advances, and other workplace disruptions of the 21st century.
To meet that challenge, the mission of the symposium is threefold: 1) to encourage the development and sharing of best practices in coaching, diversity and inclusion, and workplace culture, 2) to honor those that are blazing trails at the intersections of coaching and diversity and inclusion, and 3) to create a space for community-building and networking for practitioners in coaching, workplace culture, and diversity and inclusion.
Guests include Sonia Aranza, Soon Mee Kim, Dr. D. Ivan Young, Lauren A. Lopez, Deitre Epps, Lorenzo Rodriguez-Olvera, and many more.
---
WHAT TO EXPECT
CoachDiversity Institute once again hosts the industry's premier event for coaching in diversity and inclusion.
Learn Best Practices
Develop and share best practices in coaching and diversity and inclusion. Get inspired with actionable, new ideas from the industry's thought leaders.
Expand Your Network
Take part in community-building and networking for practitioners in business, talent management, public and non-profit sectors, coaching, and diversity and inclusion. Make connections to grow your business and make an impact.
Honor Trailblazers
Honor trailblazers who are using coaching in innovative ways, whether in diversity, equity, and inclusion work, using sponsored coaching programs, or other creative enterprises.
Be a Part of History
Join us as we continue to strengthen this forum for leaders, coaches, and diversity and inclusion practitioners.
---
SPEAKERS:
Click to view the list of symposium confirmed speakers.
---
SCHEDULE:
Click to view the full schedule here.
---
FAQs:

Is this event just for coaches?
This event is for anyone curious about leveraging the coaching skill for employee engagement, individual and community empowerment, inclusion, improved employee performance, and organizational development.
Will I receive Continuing Coach Education (CCE) hours?
Yes, the International Coach Federation has approved 7 CCEs for this event.
Will you have an ASL Interpreter onsite?
Yes, we will. Make sure you let us know your needs when you register.
What about accommodation?
The cost of hotel accommodation and travel is not included in the event fee.
Can I get a refund on my tickets?
All tickets are non-refundable unless the event is canceled by us, in which case we will always make a full refund.
Is my registration/ticket transferrable?
In the event a ticket bought for personal use must be sold or given away, such tickets may be transferred to another person after purchase. Simply email us at info@coachdiversity.com with the name change.
What is the dress code?
The appropriate attire for CDI Symposium is business casual.
How many stages will there be?
We are excited to announce that all speakers will share the same stage. There are no breakout sessions.
How can I add my company to your list of Sponsors?
For sponsor information, email info@coachdiversity.com
How can I get to the venue?
The Newseum is located at 555 Pennsylvania Ave NW, Washington, DC 20001 (use the 6th Street entrance). You will also receive a confirmation email with location map.

---
Additional Information: http://symposium.coachdiversity.com/