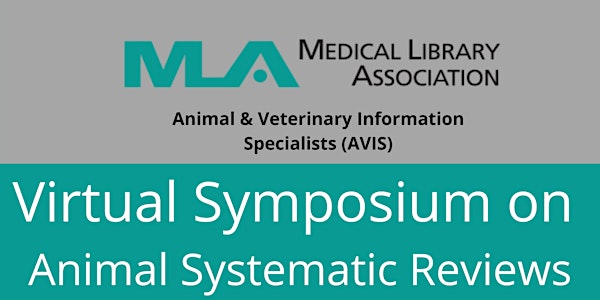 Symposium for Animal Systematic Reviews
To bring together into the same virtual space groups working on animal evidence synthesis reviews
About this event
Register here in advance for this meeting
After registering, you will receive a confirmation email containing information about joining the meeting.
Objectives:
To define commonalities between groups working on animal systematic reviews for differing purposes – clinical, research, animal welfare, food, climate/sustainability, conservation
To identify how systematic review methods differ across organizations
To elucidate how librarians, researchers and journal editors can create a culture that values the use of reporting guidelines in animal studies
To identify and document resources for animal systematic reviews, and common questions and unique problems that arise when searching for animal literature
Format – 3 hour online symposium over Zoom
First hour – Introductions by multiple organizations/individuals working on animal systematic reviews
Second hour – panel discussion
Why do we need animal systematic reviews?
Evidence synthesis cannot be done alone. What should evidence synthesis be, and how can we effectively explain this purpose to veterinarians, researchers and animal stakeholders? How do you explain different types of evidence synthesis projects? What should be pre-registered? Are we adequately generating and promoting novel questions that need to be asked/answered in the animal literature?
How do you carry out animal systematic reviews/evidence synthesis? Provide a brief overview of process and technology. Do you include different levels of evidence/different study types than you might in a human health project?
What issues/problems/interesting things do you encounter that are unique to animal searching or completing animal systematic reviews?
What do you see as the next steps for animal systematic reviews? How can they best impact policy and practice?
Third hour – Q&A discussion with questions submitted at registration and demonstration of CABI SearchRxiv
Speaker Bios
Marnie Brennan is Associate Professor in Epidemiology and Director of the Centre for Evidence-based Veterinary Medicine (CEVM), University of Nottingham. The CEVM manages VetSRev, a database of veterinary systematic reviews.
Jessie Carder is the USDA National Agricultural Library's (NAL), Animal Welfare Information Center (AWIC) Coordinator. Jessie holds a BS in Animal and Poultry Sciences from Virginia Tech and a Master's in animal welfare, behavior and immunology from the University of Tennessee.
Gillian Currie is a preclinical meta-researcher at the University of Edinburgh, an executive member of CAMARADES, and provides methodological and technical support to SyRF users (Systematic Review Facility; https://syrf.org.uk/).
Erin Eldermire is head of the Flower-Sprecher Veterinary Library and a founding member of the Cornell University Evidence Synthesis Service, which specializes in evidence syntheses for disciplines outside of human medicine.
Margaret Foster is a Professor at Texas A&M University and is the Director of the Center for Systematic Reviews and Research Syntheses. She has collaborated on several reviews related to animals and veterinary medicine.
Megan LaFollette is Program Director at the North American 3Rs Collaborative where she helps coordinate targeted systematic reviews related to 3Rs techniques.
Annette O'Connor conducted reviews related to animal health, animal welfare and food safety and hosts the Systematic Reviews for Animals and Food (SYREAF) website.
Adrian Smith is a British veterinarian and Secretary of Norecopa, the Norwegian consensus platform for the replacement, reduction and refinement of animal experiments, which maintains a database with a global overview of resources within laboratory animal science and alternatives.
Robert Taylor, Editorial Director at CABI, working on the CAB Abstracts Database with a particular interest in animal health, and currently working on the STAR-IDAZ project to coordinate animal health research globally.
Kim Wever, Meta-researcher at the Radboud university medical center, specialized in methodology development and training, (board) member of CAMARADES, preclinicaltrials.eu, PROSPERO4animals, GoEQIPD and the EBTC.