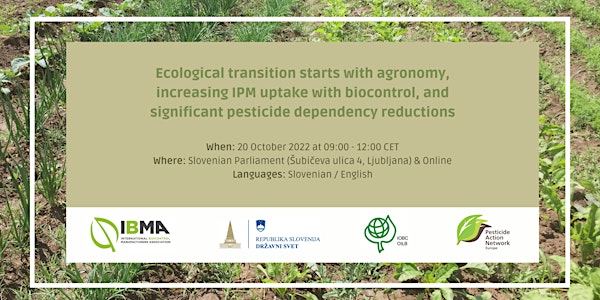 Symposium by PAN Europe, IBMA, IOBC, National Council of Republic Slovenia
Ecological transition starts with agronomy, increasing IPM uptake with biocontrol and significant pesticide dependency reductions
By Pesticide Action Network Europe
Date and time
Thursday, October 20, 2022 · 9am - 12pm CEST
Location
Slovenian Parliament Šubičeva ulica 4 1000 Ljubljana Slovenia
About this event
Pesticide Action Network (PAN) Europe, in collaboration with the National Council of Republic Slovenia, supported by IBMA and IOBC-WPRS organizes the hybrid symposium "Ecological transition starts with agronomy, increasing IPM uptake with biocontrol, and significant pesticide dependency reductions", on October 20, 2022, from 09:00 to 12:00.
Following the publication of the Sustainable Use of Plant Protection Products regulation draft, we want to bring together stakeholders involved and affected by the changes in legislation.
We also want to emphasize, in exchange with representatives of institutions, farmers and citizens, the importance of preserving natural resources. We believe that a better understanding of the Regulation will lead to the adoption of the objectives of the European Green Plan.
Another aim is to offer solutions that will be presented by Slovenian and foreign experts will help Slovenian producers solve the problem of unwanted insects and plants, and that these methods will also help to reduce the occurrence of plant diseases in intensive production.
With a successful ECI Save Bees and Farmers, and the support of 1 million EU citizens, we are motivated to work further to achieve our mutual goals.
Link to participation in the event in the Slovenian Parliament building: https://www.ds-rs.si/sl/form/mednarodni-posvet-prehod-v-ekolo
Link to join Webinar: https://us06web.zoom.us/j/82782987865