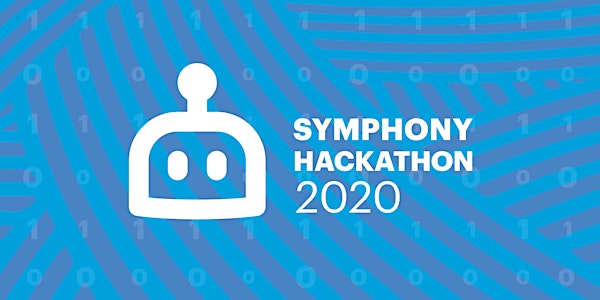 Symphony Innovate 2020 Hackathon: New York
Symphony Hackathon 2020 - Virtual in New York
About this event
Hack into New Workflows at the Symphony Innovate Hackathon
Join talented developers during our next Symphony Hackathon Digital, October 29, 2020.
During a whole day, you will have the opportunity to develop unique and innovative solutions and thus optimize the way you work. This will also allow you to break down external barriers - between companies - but also internal - between Front, Middle and Back Offices.
Teams made up of 1 to 5 people will work together to create a BOT, an application or an integration and thus make the most of Symphony. Team members must register individually for the Hackathon.
The teams will be judged according to the degree of innovation, the technical nature and the potential commercial impact of their project. A winner will be selected for each of the following three prize categories:
Better technical development with the most innovative use of Symphony APIs.
Better workflow improvement (Special consideration for an inter-company workflow).
The best workflow relating to telework and which contributes to the improvement of our new professional framework .
Details on prizes will follow.
To participate in our Hackathon, you must:
A 30-minute training session is posted on learn.symphony.com to support developers in their preparation. Although optional, obtaining the Symphony Developer certification before the Hackathon will allow participants to take full advantage of this event.
The event will be fully digital, so you will need to use your own equipment (laptops, chargers, etc.).
At the end of the Hackathon, an award ceremony will close the event. Details of the video conference will be shared the same day.
Questions? Email us at innovate@symphony.com.
See our Innovate Hackathon & Innovation Award winners from 2019!
By attending a Symphony Innovate New York 2020 Hackathon, you consent to (i) be photographed, filmed and/or otherwise recorded; (ii) be included in Symphony's newsletter distribution list (which distribution will contain an unsubscribe option if you no longer desire to receive the newsletters); and (iii) the use and publication by Symphony Communication Services, LLC, its affiliates and any applicable media agency acting on Symphony's behalf of (1) your name, likeness, statements & voice (if applicable) and (2) images, descriptions (whether verbal or written) and videos of any developments you bring to, or display or created at, the event, in each case as such information or media is received or recorded by Symphony at Symphony Innovate Europe 2020, for any purpose in which Symphony engages, including any promotion, advertisement or other conduct of trade.