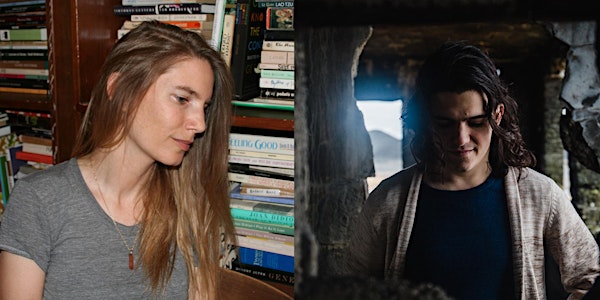 Symphony Both Spoken and Sung: Poetry by Mandy Kahn / Music by Jodie Landau
Location
University of Philosophical Research
3910 Los Feliz Boulevard
Los Angeles, CA 90027
Description
We're delighted to host this inspiring production of immersive and participatory music and poetry on our campus. Please join us for this free event!
SYMPHONY BOTH SAID AND SUNG is an evening with poet Mandy Kahn and composer Jodie Landau, showcasing a selection of compelling interactive pieces that will carry the audience around the grounds (the courtyard, library and auditorium) and feature a large ensemble of singers and performers. The event will include the premiere of "Slowly Explaining Everything," a collaborative choral piece between Kahn and Landau, as well as Kahn's "Bridge Piece"—in which the audience creates a structure that performers, reciting the poem, move through—and the premiere of "Poem for a Roving Choir," a piece that surrounds and weaves through a standing audience. The seated portion of the program will include a reading from Kahn's new collection Glenn Gould's Chair, which weaves biographical snippets from the lives of a number of composers—including Debussy, Satie, Schoenberg and Ives—into a larger examination of the creative life.
Artist Bios:
Mandy Kahn is the author of two poetry collections, Glenn Gould's Chair and Math, Heaven, Time. She frequently collaborates with composers to create new works that combine poetry and classical music, and was a librettist for Yuval Sharon's acclaimed opera Hopscotch. Her poetry is forthcoming in Best American Poetry 2018 from Scribner/Simon & Schuster, and was featured in former Poet Laureaute Ted Kooser's newspaper column American Life in Poetry. Kahn is coauthor, with Aaron Rose, of the nonfiction book Collage Culture, which was also released as a record with a score by the band No Age. She's given readings at Cambridge University, London Review Bookshop and Shoreditch House in England, at Motto in Berlin, at Colette in Paris, at Printed Matter in New York, at Davies Symphony Hall in San Francisco, and at many venues in Southern California, including the Craft and Folk Art Museum, Skylight Books and Art Center College of Design. Kahn has been interviewed by BBC Radio, Flaunt and the Los Angeles Review of Books, among many others.
Jodie Landau is a composer, vocalist, and percussionist and is the newest addition to the renowned Icelandic record label Bedroom Community. His music combines elements of chamber music, rock, and jazz for live performance, film, theater, opera, and dance. Landau works with the acclaimed modern music collective, wild Up as a performer, composer and production coordinator. In addition to his own music, Jodie performs works by Ellen Reid, Christopher Rountree, Marc Lowenstein, Andrew Tholl, Valgeir Sigurðsson, Nico Muhly, Daníel Bjarnason, Emily Hall and more. Additionally, Jodie was the multi-percussionist in The Industry's invisible opera for wireless headphones, "Invisible Cities" by Christopher Cerrone at Union Station. He composed a live score for Ate9 dANCEcOMPANY's "mouth to mouth" performed by wild Up. He toured with Ballet National de Marseille and ICKamsterdam performing the premiere of Emio Greco and Pieter C. Scholten's "Extremalism" with music by Valgeir Sigurðsson. Most recently, Jodie joined Bedroom Community for their Whale Watching Tour across Europe, including a performance with the Iceland Symphony Orchestra, with an additional U.S. show at Walt Disney Concert Hall as part of the LA Phil's Reykjavik Festival.
The evening's program is being produced by Yael Greenberg, whose projects include David Lynch's Festival of Disruption, Ace Hotel's culture programming, and producing an upcoming short with Radical Media.