Symbiosis Gathering 2015 - 10 Year Re:Union
When and where
Location
Woodward Reservoir Regional Park 28 Mile Road Oakdale, CA 95361
Description
To contact us please send an email to info@symbiosisgathering.com.
For questions about WRISTBANDS we have ANSWERS FOR YOU!
If you purchased an EXPERIENCE PASS, you will HAVE ACCESS!
All orders were sent by Sept 1. If you have not received your wristband you can contact fulfillment@eventbrite.com to see if your wristband was shipped to the correct address. EITHER WAY we can verify your purchase at will call and if necessary cancel the other band and reissue a new one.
IF YOU ARE TRYING TO SELL YOUR WRISTBAND - You may. Its not necessary to change the name on the wristband. If you need to transfer your order, you may do it on your Eventbrite account here.
The Symbiosis Field Guide has ARRIVED with the MAP and SCHEDULE!
If you didn't have an address we will have them at will call.
If they get sent to somewhere inaccessible, we can work it out.
If you have a hard ticket from an outlet, we will give you a wristband onsite.
You should be able to check your shipping address OR transfer your ticket on your Eventbrite account here. If you need to but can't, contact fulfillment@eventbrite.com.
Yes there are showers.
Car passes are per car!
Early arrival passes are per person!
When you can arrive together you can camp together. Saving spots is not possible due to the logistics of filling up a peninsula so if you'd like to camp together make sure you arrive together.
Experience Passes are now ONSALE!!!
Elemental Alchemy registrations are AVAILABLE HERE!
Car and RV Camping Passes and Early Entry are also AVAILABLE!
There are a few Lost Hotel Ready, Set, Camp beds available here!
If you have an idea for ::Art Installations, Art Boats, Decor/Environments PARTICIPATION FORMS are also ONLINE! All other roles have been fulfilled.
To volunteer CLICK HERE!
If you have another inquiry check our FREQUENTLY ASKED QUESTIONS page.
We are excited to celebrate with YOU!!!
Come enjoy music, BIG ART, workshops, playshops, theatrical & circus performances, improv & standup with a vibrant community as we celebrate ten years of Gathering on a 2900-acre lake. Make some memories!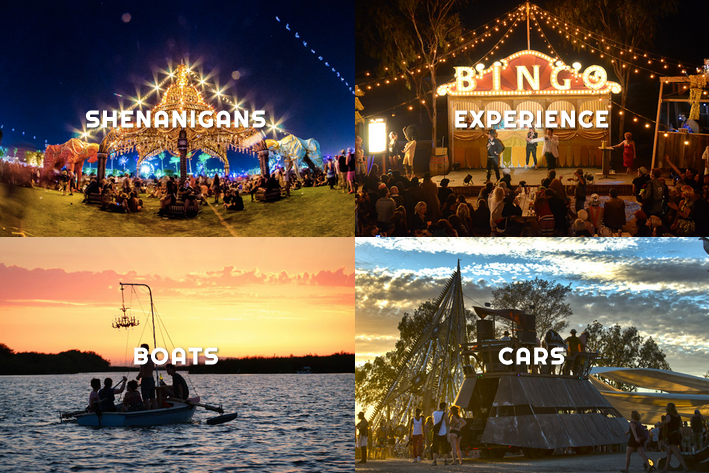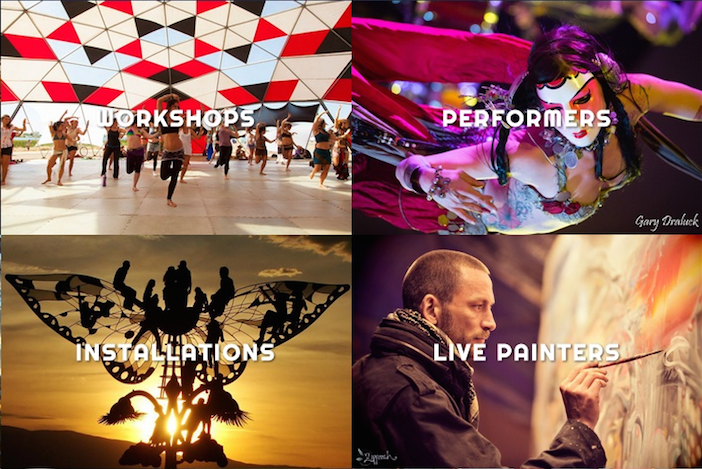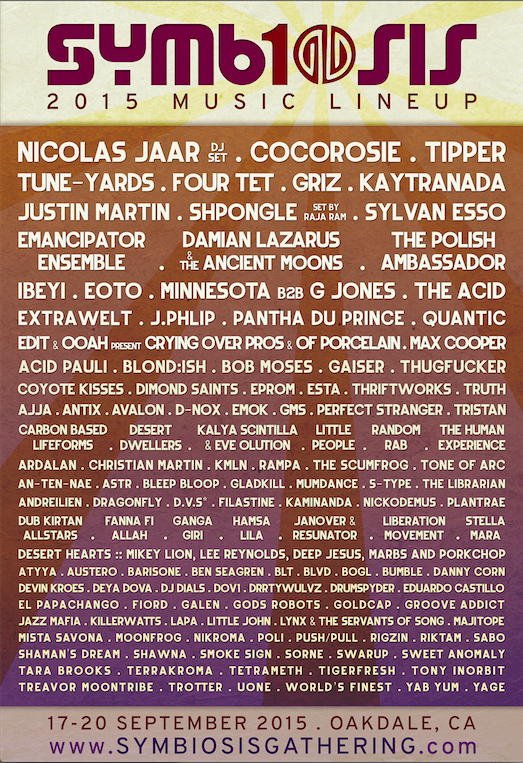 We INVITE YOU to a one of a kind experience where music, art, workshops, and community converge in a series of multi-faceted, participatory, inspiring, exciting and completely unforgettable moments! Come make some memories!
7 stages of music, 2 dedicated workshop areas, 2 areas dedicated to yoga and dance classes, large scale art installations, improv and stand-up comedy, permaculture, swimming, art boats, kids area, circus performers, healing sanctuary, live painters, art gallery, hand made clothing, hula hooping, and 5 days of camping on a picturesque peninsula surrounded by water!
OUR VIBRANT AND BURGEONING COMMUNITY IS ALMOST COMPLETELY PERFECT. ALL WE NEED IS YOU!
We are excited to return to WOODWARD RESERVOIR for Symbiosis Gathering 2015! There are plans in the works to improve the gathering in every aspect imaginable including faster entrance, closer camping and parking, and a production that should knock your socks off…so bring flip flops!!!
Click HERE to purchase Car Camping and RV Passes.
Payment Plans will be available on March 10th
In order to streamline the entry process, RFID wristbands will be shipped out approximately 1 month from the beginning of the festival. You are encouraged to distribute each of the wristbands to their respective owners and register the wristbands for entry into a special behind the scenes look at Symbiosis Gathering! If you order tickets after August 26th, your tickets will be available for pick up at the box office onsite. Please make sure to bring an ID to claim your wristband(s).
If you need to view or update your shipping address you can click HERE for instructions.
If you will not have an address to ship to, you can pick them up at the box office. For your address just write:
Box Office
Oakdale, CA 95361
There will be no refunds or exchanges on tickets. ALL ORDERS ARE FINAL!!! Symbiosis Gathering will happen RAIN or SHINE! You are encouraged to prepare for inclement weather! Tickets purchased here are for the event Symbiosis Gathering 2015. Symbiosis reserves the right to change the lineup at any time.
After purchase of your tickets, be sure to look for a confirmation email from Eventbrite to make sure your order was processed. If you did not receive a confirmation email, you may contact the Eventbrite Help Center for more information.
ALL TICKETS ARE BOUND BY THE TERMS AND CONDITIONS LISTED HERE!
PLEASE TAKE THE TIME TO READ THIS BEFORE ARRIVING!
For other questions, see below or please consult our Frequently Asked Questions page!
---
When will the lineup be announced?
There will be a gradual reveal of booked artists after the equinox and before the solstice!
What time do the gates open?
Symbiosis Gathering 2015 will open at 10AM on Thursday, September 17th.
What are the festival run times?
Opening ceremony will be at around 3pm on Thursday the 17th. There will be workshops and music on Thursday. The event goes through until Sunday night. Campers must leave by noon on Monday.
What do I need for entry?
This year we will ship RFID wristbands to you ahead of time. With the RFID bracelet there will be no waiting at the box office and instead you will head right towards the festival gate.
When is the box office and gate open?
On Thursday they will be open from 10am - 2am. On Friday and Saturday it will be open from 10am - Midnight . We will have limited hours on Sunday from 10am - 6pm. Please make sure you arrive during our posted hours as we will NOT be allowing entry outside of these hours; so please plan accordingly.
What if I get there after box office hours?
If you arrive after box office hours but have your wristbands you will be able to proceed into the festival and park in our overnight parking. You will be able to move into regular parking after 8am. If you do NOT have your wristband, you may stay in a designated camping area outside the festival area. For this reason we STRONGLY ENCOURAGE choosing the shipping option to get your festival bracelet before you arrive!
Will there be day passes available?
There will not be day passes available.
Do children need tickets?
Kids 12 and under are $20 (cash onsite) when accompanied by a ticketed adult! However if your 12 and under child looks like he/she may be quite a bit older you may want to bring a copy of their birth certificate to ensure your transition through the gate is a smooth one. Tickets for children between the ages of 13-15 will be available for $125 (cash onsite). Ages 16+ require a full-priced ticket.
Will there be a kids area or a kids camp?
Yes there will be a kids camp that should be fun for kids of all ages.
Are there any rules pertaining to kids under 18?
Yes all minors must be accompanied by a responsible adult.
Are tickets transferable?
Yes tickets are transferable. Contact Eventbrite to transfer your ticket.
Is camping included with the ticket?
Yes camping and general parking is included with the price of your ticket. A walk-in camping spot will likely not be near your car so bringing a set of wheels will be beneficial.
Where is the tent camping location in proximity to the event site?
Walk-in camping is included with the ticket. There is plenty of walk-in camping including thousands of feet of lake frontage. Walk in camping is as close as bordering the entrance to the festival and as far as 3/4 of a mile.
How far walking is parking from the camping area, if we were to opt to walk-in and park?The furthest away is three quarters of a mile from the festival. Camping may be as close as 100 feet. Even the furthest reaches of the parking lot however have camping within 500 feet or so but those spots will be further away from the festival. No camping will be more than a mile away from the festival.
Whats the deal with the new categories of RV and Car Camping?
In order to reduce the prices for many, we've created some Reserved Car Camping and RV Parking. This year the event space has been pushed forward to give more accessibility for everyone at the event. The reserved area for RV's and cars are utilizing the area that was event space last year. We've decided to make these spots available at premium prices because some people can afford them and we have DROPPED the price of Car Camping from $120 to $90. Any space used for Car Camping and RV parking last time will remain the same. So people aren't losing prime real estate, new real estate was created by further integrating the event in the tip of the peninsula.
Where is the car camping location?
Car camping is a few hundred yards away from the festival or up to 1/3 of a mile. There will be limited Reserved Car Camping spots which will be much closer to the festival and close to the shore. General car camping is not guaranteed to be flat or close but we will try to accommodate both to the best of our ability.
What does a Car Camping ($90) pass get you?
Car camping allows for integrated cars and tents. The walk-in camping will be closer but the car parking will be further away. Car camping will be in between these two areas. Car camping is for those who wish to camp with their car. You will need to redeem your car camping at the box office.
Is RV Camping close to the festival?
RV and Car camping are both close-ish to the festival. RV camping is flat prime real estate.
Does RV camping provide water and power hook-ups?
Hookups will NOT be available to those purchasing a RV Camping Pass.
Can a small RV purchase a car camping pass?
If you have a Class B vehicle, a conversion van, or a truck with a camper that fits in the bed you may purchase a Car Camping Pass. RV's must be less than 20' to use a Car Camping pass.
Will i have access to my car during the festival?
There is plenty of parking on site. Parking is free when arriving with 3 people or more in a car. Both car camping and select walk-in camping are very close to the festival area. Walk-in camping is plentiful and is available close to all parking areas. The closest camping to the festival is 1/2 mile from the furthest parking. You will have access to your car all weekend. The car once parked cannot move until leaving the event site.
Will there be wheelchair access?
We will have ADA camping available. A venue map will be released soon showing exactly where. Also, there is a paved road all the way through the site. The terrain is by and large very flat. Stay tuned for more info...
When can people with early entry passes arrive?
All ticket holders with early entry passes can start arriving at 3PM on Wednesday, September 16th. The box office will close for early entry passes at midnight. The box office will re-open for regular ticket holders at 10AM on Thursday morning when the gathering begins.
Will there be a VIP area?
Everyone is a VIP.
WE ARE EXCITED FOR YOU TO JOIN US!!!
For other questions, please consult our Frequently Asked Questions page!
Nicolas Jarr, Coco Rosie, Tipper, tUnE-yArDs, FourTet, Griz, Kaytranada, Justin Martin, Shpongle Set by Raja Ram, Sylvan Esso, Emancipator, Damien Lazarus & the Ancient Moons, The Polish Ambassador, Ibeyi, EOTO, Minnesota vs. G Jones, The Acid, Extrawelt, J. Phlip, Pantha du Prince, Quantic, Acid Pauli, Blond:ish, Bob Moses, Gaiser, Max Cooper, Coyote Kisses, Dimond Saints, EPROM, ESTA, Thriftworks, TRUTH, AJJA, Antix,, D-Nox, Emok, Perfect Stranger, Tristan, Carbon Based Lifeforms, Sync 24, Desert Dwellers, Kalya Scintilla, Little People, Random Rab, The Human Experience, Ardalan, Christian Martin, KMLN, Rampa, The Scumfrog, Tone Of Arc, An-Ten-Nae, ASTR, Bleep Bloop, Gladkill, Mumdance, S-Type, The Librarian, Andrelien, Dragonfly, D.V.S.*, Filastine, Kaminanda, Nickodemus, Plantrae, Dub Kirtan Allstars, Fanna fi Allah, Ganga Giri, Hamsa Lila, Janover & reSunator, Liberation Movement, Stella Mara, Atyya, Austero, Avalon, Barisone, Ben Segrem, BLT, BLVD, Bogl, Bummble, Danny Corn, DJ Dials, DOV1, DRRtywlvz, drumspyder, Eduardo Castillo, El Papachango, Fiord, Galen, Gods Robots, Goldcap, Groove Addict, Jazz Mafia, Killerwatts, Lapa (Emancipator) Little John, Lynx & the Servents of Song, Majitope, Mista Savona, Moonfrog, Nikroma, Poli, Push / Pull, Rigzin, Riktam, Sabo, Shaman's Dream, Shawna, Smoke Sign, SORNE, Swarup, Sweet Anomoly, Tara Brooks, Terrakroma, Tetrameth, Tigerfresh, Tony Inorbit, Treavor Moontribe, Trotter, Uone, World's Finest, Yab Yum, Yage / Ninad / Yage DT
17-20 September, 2015 Woodward Reservoir Regional Park, Oakdale, California