About this Event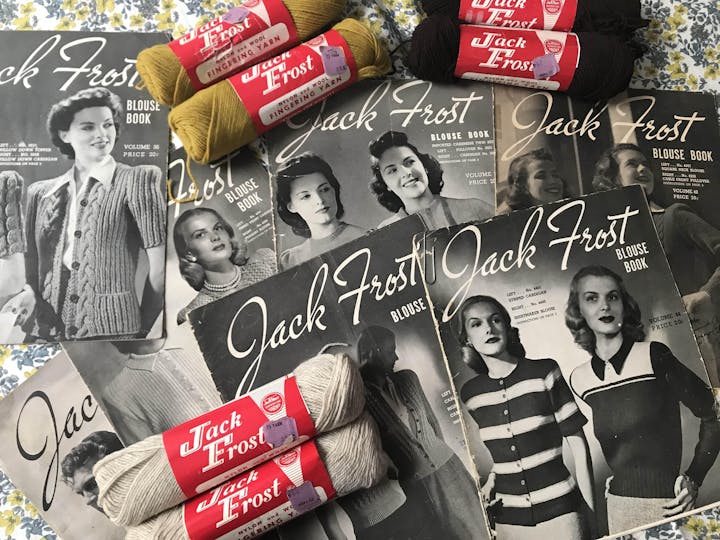 Please join vintage knitting aficionado Sydney Crabaugh for her first ever Vintage Knitting Retreat! Set in the beautiful and serene Hudson Valley, you will be transported back in time for three full days of immersive, vintage fun. In this workshop-based retreat, you will learn the ins and outs of vintage garment knitting from the 1930s-1950s. Starting with a lesson on "decoding" actual vintage patterns, you will then dive into knitting a miniature vintage blouse, which will allow you to practice different edges, collars, sleeve shapes, and of course, seaming. We will discuss sizing and modifications, as well as an in-depth look at reading gauge and figuring out how to do the math to make your perfect vintage sweater.
For three days and nights, you will be tucked away in an 1860s farmhouse that has been home to the same family for over eighty years. Pictured above are Myra and Ben, who bought the farm house in the early 1940s! The home is surrounded by tranquil grounds (150+ acres) that are perfect for a morning stroll, and inside there is a library, a large sunroom that will host our knitting workshops, and a beautifully decorated dining room where we'll enjoy freshly prepared meals from local chefs in the community. In the evenings there will be themed movie nights, where Sydney will give a brief lecture on a 1940s film before we knit alongside Hollywood starlets of the silver screen.
Along with the workshops, we will be taking a few excursions! This event coincidentally takes place during the beginning of lambing season. Therefore weather permitting, we will get to spend a morning with the sweet little sheep at Kinderhook farms and speak with one of the primary caretakers about sheep farming, textile history, and get to visit with her flock! On a different day, we will journey over to Art Omi Sculpture Park for a small picnic if the weather is nice.
This event will be packed full of rich history, scrumptious food and beverages, vintage delights, and plenty of knitting. Please, come along for the adventure!
About the Workshops:
During the course of these workshops, you will be creating a miniature version of a vintage blouse. The objective of the workshops is for the participants to leave with a well-rounded understanding of vintage garment knitting from start to finish, without having to make an adult-sized sweater in three days (which let me tell you, is no easy feat). The first lesson will be filled with information regarding gauge, sizing, measurements, and modifications: all the quintessential tools to produce a successful garment! We will then move into starting the blouse, while discussing advantages to certain edges, knitting in the round verses knitting flat, and work on the body of the piece.
The second, third, and fourth class will walk you through armhole shaping, different types of collars and neck edges, techniques and styles of short sleeves, and will conclude with a thorough lesson on seaming and finishing work. Seaming is a very important component to vintage garment knitting, therefore significant time will be spent on learning the various seaming methods such as the mattress stitch, setting in a sleeve, and creating that lovely 1940's puffed-sleeve at the top of the shoulder.
Skill level required: Although it is not imperative that you have made an adult-sized garment before, it will certainly help you through the process. To attend this retreat, you will need to have a comprehensive understanding of long tail cast on, knitting, purling, rib stitch, general increases and decreases, binding off, and possess basic skills of checking gauge and reading your own work. I would like for this event to be as inclusive to different knitting levels as possible, so I wholeheartedly welcome this retreat as your first attempt at a garment! However, please keep in mind that we will be fitting in a lot of new information in a short amount of time, and I wouldn't want anybody to feel overwhelmed. Please contact me if you have any questions or concerns about this!
Yarn and notions will be provided for the class, but please bring along a size US 3, 4, and 5 in a 24" circular needle, as well as a US 3 in double pointed needles.
Despondent Dyes Trunkshow!:
Despondent Dyes is an indie yarn dyer from Corvallis, Oregon. For this retreat, they will be providing the yarn we use in class in an exclusively dyed colorway! The yarn is a non-superwash merino sport weight, in their brand new Vintage Vixen base. They will also be sending us a trunk show of the new yarn as well as some fingering weight yarns. This is the debut of Vintage Vixen -- we get to squish it before anyone else! They will be providing sweater quantities of the new base, and there will also be an option to pre-order the next batch if anything sells out. Check out their amazing current yarns at @despondentdyes on instagram, or at despondentdyes.com.
About your Hostess:
Sydney (or Squidney) Crabaugh has been knitting almost exclusively from vintage patterns for over six years. Along with knitting, her biggest passion is exploring all the realms of early-to-mid twentieth century fashion, history, literature, and film. She has been working at yarn shops for over eight years, and has been teaching all levels of knitting for six years. Vintage Knitting came naturally to her, as it feels like the deepest form of connection between this era and the ones that she yearns for. Apart from knitting, Sydney holds a Master's degree from NYU in Film History, which has only aided to her understanding of fashion through the decades. She currently works as a manager at Purl Soho in New York City, and is [slowly] working on releasing her own vintage inspired designs. You can find her on instagram as @squidneyknits, or on ravelry under the same username!
Pricing and Reservation:
The house is equipped with seven guest bedrooms: there are two guest rooms with their own bathrooms downstairs — the larger one has two twin beds, and the second room has a double bed. Upstairs, there are five more bedrooms, three of which have queen size beds and could be shared, and the remaining two are single occupancy rooms each with a double bed. There are two additional bathrooms upstairs, and a powder room on the lower level.
The total price of the retreat will vary between $1050 - $1250, depending on whether you share a room or not. This price includes three days & three nights at the farmhouse, all meals prepared by local chefs with artisanal ingredients, wine, snacks, cocktails, excursions, yarn for the workshops, transportation to and from the Hudson train station if needed, and 12+ hours of knitting workshops.
To reserve your spot, you will put down a $310 non-refundable deposit, and specify whether you would like a single or double occupancy room. If you and a friend will be sharing a room together, please write in the notes who you will be sharing with! The remainder of the payment will be taken two weeks before the event, and will be worked out with each individual. Sydney will get in touch with you directly via email regarding the final price. To reiterate once more: $1250 total would be the maximum you will pay-- there are no hidden fees!
Price does not include transport to and from Hudson, NY.
Itinerary:
April 4th
Participants arrive between 4:00pm and 6:30pm.
The Hudson station is on an Amtrak line, and the prices vary considerably based on availability, so it is a good idea to make reservations early. Coming up on Thursday the 4th from NYC's Penn Station, there are trains arriving to Hudson at: 4:20pm, 5:15pm, and 6:30pm.
Welcome dinner, and casual knit night in the evening (be sure to bring some fun, non-class knitting with you as well!)
April 5th
Breakfast (available starting at 7:00am), explore the grounds or enjoy a quiet morning.
10:30am Workshop: fundamentals of reading vintage patterns. Understanding language/terminology, yarn weight, row & stitch gauge, yarn choice, needles, and sizing.
12:30pm Lunch: If weather is nice we will pack a picnic and head over to Art Omi Sculpture Park for a break!
2:00pm - 5:00pm Workshop: getting started with a miniature garment. This includes further talk about sizing/ adjustments, ribbing styles, hemmed edges, flat verses in-the-round knitting, other edge techniques, and side shaping.
5:00pm - 6:30pm: Finish up class/ break/ change for dinner
~6:30pm: Dinner, and 1950s Tropical Night! (costumes & period appropriate attire encouraged!)
~8:00pm: After dinner drinks, an (optional) Carmen Miranda film and brief but enthusiastic lecture. Students can knit while watching!
April 6th
Breakfast (available starting at 7:00am)
Excursion to Kinderhook Farms! We will drive five miles down the road to Kinderhook farms to meet with Anna, a sheep farmer and textile historian. She will give us a tour of the grounds, and a chance to meet some of the adorable sheep that live here! Lunch will be provided before returning to class, either at the farm or at a local restaurant.
2:00pm - 6:00pm (with break) Workshop: troubleshooting, neckline & collar styles, sleeve shaping techniques
~6:00pm - 7:00pm: Finish up class/ break/ change for dinner
~7:00pm: Dinner and 1940s Film Noir/ Melodrama Night! (costumes & period appropriate attire encouraged!)
9:00pm: After dinner drinks, an (optional) melodrama film and brief lecture. Students can knit while watching!
April 7th
Breakfast (available starting at 7:00am)
9:30am Workshop: Seaming and finishing techniques
12:00pm Brunch
~1:00pm - 2:30pm: Final questions, mapping out your next project, packing up
~4:00pm: Departures