About this Event
Rakugo Show in Sydney
Rakugo Show in Sydney is a Japanese traditional comic storytelling show in Japanese featuring Sanshitei Jiro. The show takes place on the first floor of the Annexe of the venue on 17th, February. Seating for the show begins at 1:30 pm with the show starting at 2:00 pm. Seating at the venue is limited to 50. It is recommended to purchase advance tickets.
Sanshitei Jiro (Takasugi 'Jay' Sanshi) is an apprentice of Katsura Bunshi (former Katsura Sanshi), a leading figure of Kyoto-Osaka Rakugo, is coming to Sydney to perform 'Rakugo'. Jiro, belonging to Yoshimoto Creative Agency Co., Ltd., is good at performing creative Rakugo, which is actively presented at many places in Japan, including clubs and musician's opening acts. He also attracts audiences with acting skills which were trained through the experience as a voice actor of the role of Pegasus. J. Crawford in TV animation Yu-Gi-Oh!
He is also a unique comic storyteller who was the first man in the world performing Rakugo at the summit of Mt. Fuji. What kind of Rakugo's world he will show in Sydney? Do not miss the opportunity to enjoy Japanese laughter in Japanse!
As Opening Performance, Junko Hirabayashi also performs classical Japanese Dance. Junko regularly performes for charity and community events and private functions in New South Wales.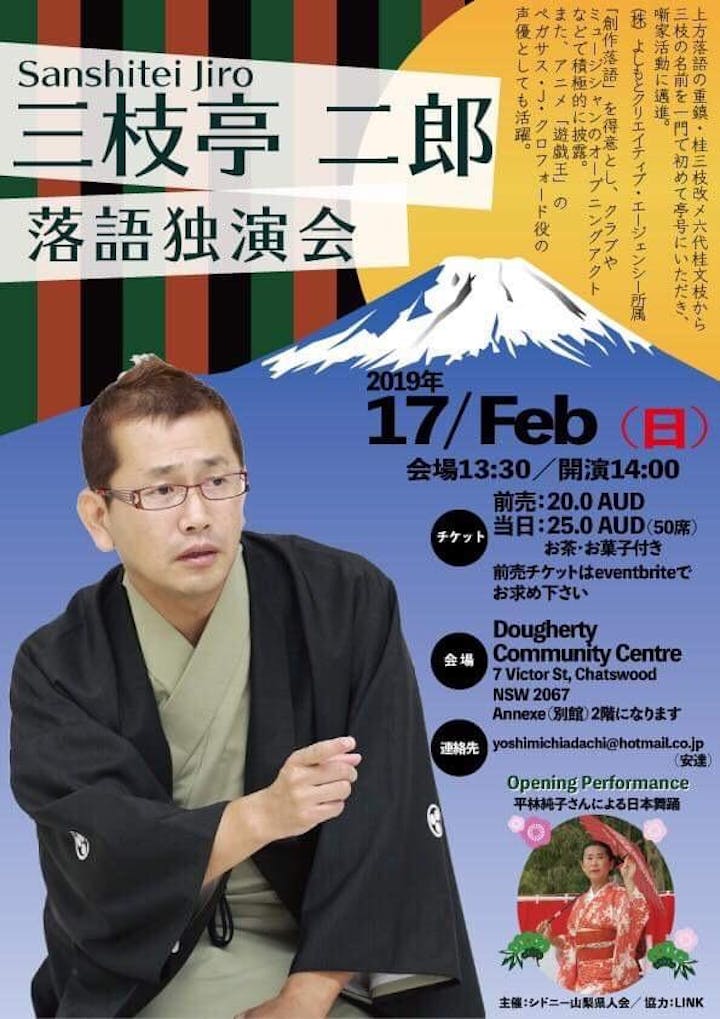 RAKUGO SHOW in SYDNEY
SANSHITEI JIRO LIVE