S*xual Kundalini Yoga ~ how singles & couples can master this long lost art
Sexual Kundalini Yoga ~ how singles & couples can master this long lost art
About this Event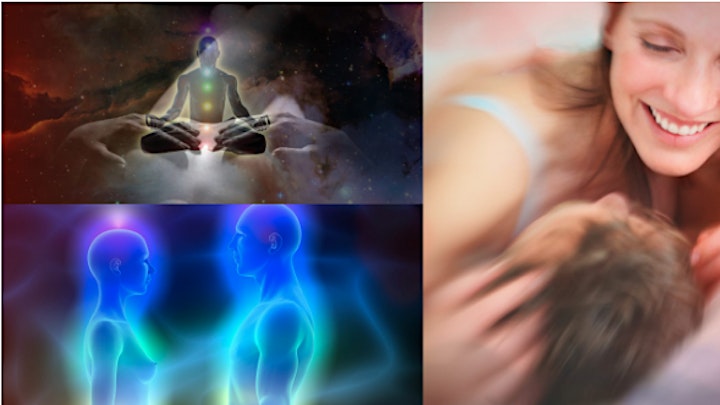 What do sex, spiritual practice and Yoga all have in common? Kundalini!
Kundalini yoga is a very advanced and deep practice of moving sexual energy through the body and up the spine (which is both experiential and a metaphor for raising one's vibration. It allows us to include the sexual center in our experience which is extremely important for vitality and Health and our love life and have a physical/spiritual practice which increases our presence, aliveness, and enjoyment.
Usually the worlds of sex, spiritual practice and Yoga are kept separate. And that's a mistake. Just about everybody wants to have a great sex life and be healthy in their body and have some contact with a greater sense of presence, spirit or being.
People are often put in the predicament of having to pick one or compromise somehow, but who wants to do that!
Join us on March 10th for Sexual Kundalini Yoga – how singles & couples can master this long lost art.
We will:
• Focus on how we can use this energy in our inner life but also in our outer life: for example if you're single to increase your presence and meet people to date more easily, If you're in a relationship, how to be more contacted heart to heart with your partner and feel even more attraction!
• Reveal how many advanced and long lost practices have a great deal in common. For example, many traditions talk about a column of space or energy through the center of the body which mirrors to kundalini experience.
• Bring together worlds that are usually separate and show you how to apply them in your day-to-day life practically.
• Illuminate the potential problems that can arise in kundalini practice (for example the energy getting stuck in the head) and bring in some practices from other traditions that can help resolve this, (for example bringing the energy down the front of the body which both grounds the energy and makes it that much more available for sexual connection).
This is a great evening for singles to explore themselves from the depths of their bodies through their hearts and spirits, and a great evening for a couples to enhance their intimacy and love for each other. It's also a great date night and guaranteed to be a blast. All of Alicia and Erwan's classes are super engaging with fun exercises, great conversation and truly entertaining stories about their adventures together! For those who want to take things to the next level. Alicia and Erwan Davon share all about different opportunities available in their school designed to support singles and couples in unleashing their relationship potential!
Your Facilitators:
Erwan and Alicia are long time teachers based in the Bay Area couple that have developed the Davon Method and taught it to thousands of students and helped them reach their sexual and relationship goals. As a married couple, they have been teaching singles to get into relationship and couples to thrive in relationship, with an emphasis on developing an advanced level of sophistication with attraction and seduction for the last 25 years. They have become the go-to place in the Bay Area for all things romantic and sexual.
Erwan and Alicia have a unique approach to relationship coaching that combines their educational backgrounds in psychology and sexuality and aspects of Zen Buddhism to provide a holistic method to effectively improve connection with the self and others.
Erwan studied psychology after a difficult childhood and an early introduction to therapeutic work. He went on to live and study in a Zen Monastery, direct a yoga ashram, and began teaching personal development at one of the world's largest personal grown organizations. Erwan's passion for helping and teaching people led him to found Erwan Davon Teachings in 1995, specifically to help people improve their relationships.
Alicia Davon holds a Master's degree in Integral Psychology with a focus on women's romantic and sensual expression. She trained as a therapist before meeting Erwan and led numerous women's groups devoted to female pleasure and life fulfillment from career to relationship. She met Erwan 15 years ago and started teaching with him soon after.
Together, Erwan and Alicia developed The Pleasure Course and several other programs, which have helped thousands achieve their ideal love lives. They provide a safe place to explore psychological inquiry, pleasure, and sexuality.
They have spent years perfecting their curriculum and techniques and are excited to share their expertise with newcomers so they can help improve chemistry, connection, communication, and passion in others' lives!
For more events, visit our website: https://www.erwandavon.com/events