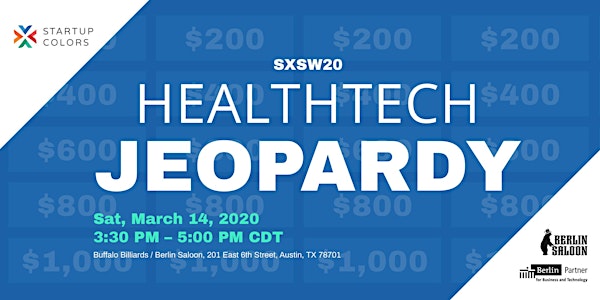 SXSW20: Wanna play HealthTech Jeopardy with us?
Explore the healthcare community in Europe with us by playing Healthtech Jeopardy at SXSW 2020!
When and where
Location
Buffalo Billiards / Berlin Saloon 201 East 6th Street Austin, TX 78701
About this event
**EVENT CANCELLED DUE TO SXSW 2020 OFFICIAL CANCELLATION**
Are you tired of panels and keynotes? Well, so are we! At SXSW 2020, we want to connect entertainment with education. After a successful HealthTech Innovation Day at SXSW 2019 where we inspired you in a traditional way, we have decided to try out a bolder concept.
We will play HealthTech Jeopardy on stage at Berlin Saloon - an official SXSW 2020 venue!
How does it work? We will have five (5) categories - just like the trend topics you usually get information on by keynote speakers and panelists - and four (4) healthcare experts who will battle it out to win the highest amount of money by answering various questions on healthcare trends across the world correctly. The trickier the question, the higher the amount — just like on the old-fashioned Jeopardy you might have seen on TV.
------------------------------------------------
Which topics are we going to cover?
We will explore the healthcare trends in Europe - and of course, Texas! Europe is a booming startup hub - and yes, we are Europeans - and right now, the opportunities are endless. One industry, however, that is experiencing a much-needed rejuvenation and disruption right now is 'Healthcare'. Did you know:
Our Jeopardy categories will therefore be:
Berlin's Healthcare Scene: Berlin is a strong healthcare ecosystem and a great health tech hub in Europe to start a company.
Tech Rocks Health: Technologies being used in healthcare to support patients, empower healthcare professionals (physicians, nurses, etc) and improve processes.
Texas Revealed: Texas is one of the key healthcare ecosystems in the US and a great place for foreign companies to enter the US.
DTx: Digital Therapeutics are apps or software that can complement or replace a drug or traditional medical treatment.
Money, Money, Money: Let's talk investment, reimbursement, resources, salaries, prices, etc.
***GET INVOLVED:***
PS: Want to contribute: Send us the questions/answers you would like to see on stage and get credit for your contribution. Just use our online form to share your thoughts!
----------------------------------------------
Category Hosts & Challengers
For each topic, we have a "Category Host" who will give you some valuable insights before the game starts. Be prepared for five (5) topic introductions, and yes, if you listen well, you might also get some hints on the answers that might come up later in the game!
Meet our "Category Hosts":
Meet our "Challengers":
Konstantin Mehl, Co-founder and CEO USA Kaia Health (Munich, Germany/ New York City, USA)
Nick Dougherty, Managing Director of MassChallenge HealthTech (Boston, USA)
Jennifer Lannon, Managing Director of Women's Health at Springboard Enterprises (Miami, USA)
--------------------------------------------------
Meet the Game Masters:
Hooked? Feel free to reach out and send us your suggestions at sxsw@startupcolors.com!