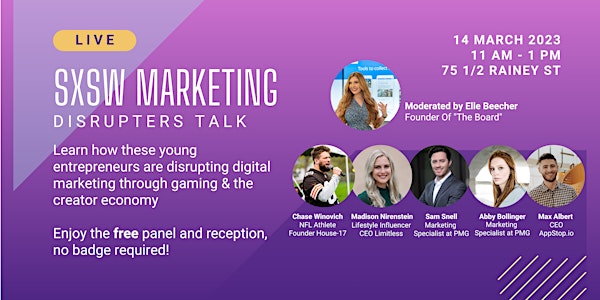 SXSW Marketing Disrupters Talk
A NFL Athlete, Influencer-Founder, Game Designer, and Video Game Marketer share their insider knowledge on the future of marketing
When and where
Date and time
Tuesday, March 14 · 11am - 1pm CDT
Location
75 1/2 Rainey St 75 1/2 Rainey Street Austin, TX 78701
About this event
Meet Our Panelists:
Max Albert - Founder & CEO of AppStop.io. Building advertisement games to help companies improve brand affinity, product recall, and drive conversions. Some of Max's apps have been featured on the iOS top 100 list.
Connect with Max:
Twitter - LinkedIn - AppStop.io
Chase Winovich - Cleveland Brown defensive end, co-founder of multi-million dollar marketing agency House-17, and CEO of eSignature company Signet.
Connect with Chase:
Instagram - Twitter - LinkedIn - House 17 - Signet
Madison Nirenstein - Ex-Google, founder & CEO of a marketing agency Limitless Marketing Management. She's advised the the likes of Tax Bit and Volvo on marketing strategy. Grew her lifestyle Instagram to over 100,000 followers.
Connect with Madison:
Instagram - LinkedIn - Limitless
Sam Snell - Marketing Specialist at PMG. Lead eCommerce strategy for PMG's. Sam has personal expertise in video game marketing, and has assisted PMG's clients in their video game marketing strategy.
Connect with Sam:
Abby Bollinger - Senior Programatic Manager at PMG. Lead eCommerce markerting strategy for major retailer.
Connect with Abby:
Meet The Moderator
Elle Beecher - Elle launches new advertising products at Meta and the founder of "The Board," a social club for entrepreneurs, VCs, techies, and curious people in Austin, TX. Their flagship event is a weekly morning walk of the Austin riverline full of great discussions of current trends.
Connect with Elle:
Twitter - LinkedIn - The Board
Itinerary
Panel 11 - 12: Elle asks our panelists for their opinion on the latest marketing trends that are impressing them. Perhaps the panelists share some insider secrets on marketing innovations coming for 2023 and beyond.
Reception 12 - 1: Enjoy drinks provided by AppStop.io. Network with the panelists and freinds of Midwest House.